Mariupol: invaders clear rubble of "Drama Theatre", bodies of the dead taken out and dumped in a trench
Saturday, 23 April 2022, 12:06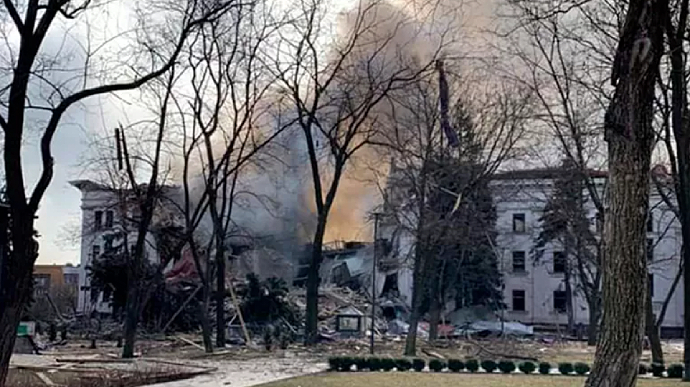 VALENTYNA ROMANENKO — SATURDAY, 23 APRIL 2022, 12:06
In Mariupol, the occupiers are clearing the rubble of the Drama Theatre bombed by Russian troops, and any bodies they find are being taken to the village of Manhush, where they are dumped in a trench.
Source: Adviser to the Mayor of Mariupol Petro Andriushchenko, on Telegram
Advertisement:
Details: According to Andriushchenko, the Russian occupiers continue to "clean up" in the centre of Mariupol. The ruins of the Drama Theatre, where hundreds of civilians were hiding, and Russian aircraft dropped powerful bombs, are currently being dismantled.
The occupiers are packing the bodies of the dead in plastic bags, transferring them to a storage facility in the industrial zone near Nikolske Highway with tractors and trucks, then taking them to Manhush, where the bodies are dumped in a 300-metre trench.
The mayor's adviser says that only workers of the so-called "Ministry of Emergency of the self-proclaimed DPR" were involved in "cleansing" the ruins of the bodies of the dead Mariupol residents due to the refusal of local residents to participate in such work.
Quote: "Russian cynicism has no limits. The area of the square park near the Drama Theater was used as a cemetery for Nazi German soldiers whose bodies were exhumed and reburied only in 2018-2019 during reconstruction. Now the Russians have turned the centre of Mariupol into a cemetery. There are no words! Only fury!"
Why this is important: While Russian propaganda reports on the alleged "capture of Mariupol", the streets of which are allegedly "cleared of Nazis", the Ukrainian Defence Forces continue to courageously defend part of the blockaded city and in particular civilians (mostly women and children) hiding from the invaders' atrocities in the basements of the "Azovstal" plant. Ukrainian authorities and the civilised world are calling on the Russian aggressor to allow civilians to leave the city, which has been laid waste by the invaders, through humanitarian corridors.
Background: