80% of Sievierodonetsk occupied, but Armed Forces of Ukraine have counterattacked and captured prisoners
Wednesday, 1 June 2022, 20:25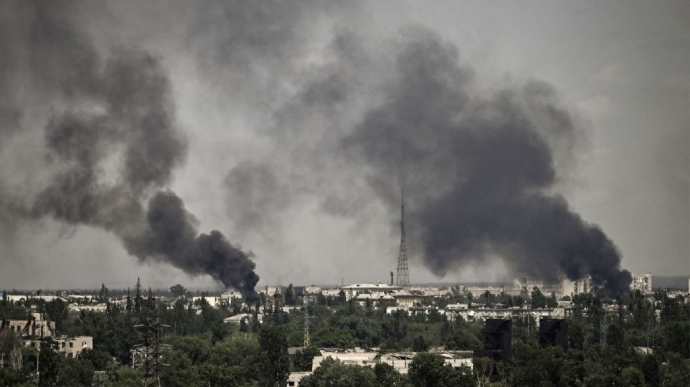 DENYS KARLOVSKYI - WEDNESDAY, 1 JUNE 2022, 20:25
Russian invaders have occupied 80% of the city of Sievierodonetsk in the Luhansk region, but Ukrainian defenders have launched a series of counterattacks and captured six Russian troops.
Source: Sergii Haidai, the head of Luhansk Oblast military administration, during a 24/7 national joint newscast
Advertisement:
Quote from Haidai: "Even today, our guys carried out test counterattacks, and even pushed some Russians over to their side on some streets. Captured prisoners, we will see what they would say. Six.
Do not put a cross on Sievierodonetsk! They will fight for Sievierodonetsk to the end!"
Details: The head of Luhansk Oblast military administration confirmed that Russian troops intend to capture Lysychansk after that.
Haidai said that it is dangerous at present in all villages and cities of the Luhansk regio, because shelling from various types of weapons continues everywhere. Heavy fighting also continues in the vicinity of Popasna between the Armed Forces of Ukraine and Russian occupiers.
Despite devastating shelling by the invaders, the military administration is managing to bring humanitarian aid to Hirska Amalgamated Territorial Community (hromada) and Lysychansk, primarily drinking water and water filtration facilities.
In addition, during 1 June, the Ukrainian authorities managed to evacuate several people from the territory of Hirska Amalgamated Territorial Community (hromada). However, he added that this evacuation was very dangerous, and in recent days people have died even in armoured evacuation vehicles.
Background:
The Russians are preparing mop-up operation around Sievierodonetsk.
On 30 May, Russian troops shelled an armoured vehicle evacuating residents of Sievierodonetsk. French journalist Frédéric Leclerc-Imhoff was also in the vehicle, who died of the wounds he sustained.