Paper chain featuring Zelenskyy is hung on Christmas tree in Tver, Russia
Sunday, 11 December 2022, 10:22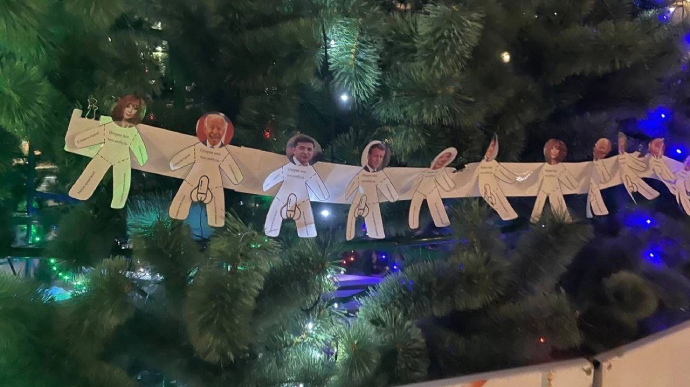 A paper chain featuring an image of Volodymyr Zelenskyy has been spotted on a Christmas tree in the centre of Tver, Russia.
Source: Meduza, a Latvia-based Russian media outlet
Advertisement:
Details: Meduza has posted photographs of a Christmas tree decoration that features images of "enemies of Russia".
As well as Zelenskyy, there are photos of US President Joe Biden, French leader Emmanuel Macron, and singers Alla Pugacheva, Maxim Galkin and Laima Vaikule [who have spoken out against the war on Ukraine].
Each paper figure reportedly has dotted lines around the edges and the inscription "Tear something off me".
Update: A few hours later, propagandists reported that the paper chain had been removed by the authorities.
Why this is important: The Kremlin has instructed Russian oblasts to use propaganda to support the war during New Year celebrations. Local authorities are trying to spread propaganda clichés about Ukraine, the West and the war of occupation through games and entertainment.
Previously: The Kremlin issued orders to local authorities of the Russian Federation on how to celebrate the New Year, advising them to "show restraint in spending" but not to forget about "the soldiers' heroism" in Ukraine.
Journalists fight on their own frontline. Support Ukrainska Pravda or become our patron!