Ukrainian Parliament officially defines Putin's regime as Ruscism
Tuesday, 2 May 2023, 18:02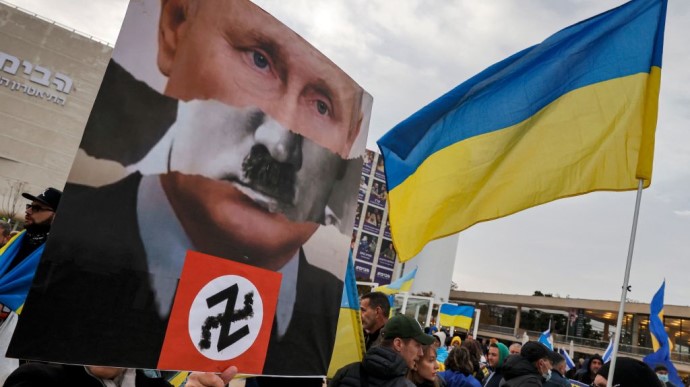 The Verkhovna Rada of Ukraine, the country's parliament, has officially described the current political regime in Russia as "Ruscism" and condemned it on the legislative level.
Source: website of the Verkhovna Rada of Ukraine
Details: 281 Members of the Ukrainian Parliament voted for the corresponding draft resolution, No. 9101, at a session on 2 May.
Advertisement:
The resolution was adopted as a statement and reads as follows:
"Statement of the Verkhovna Rada of Ukraine 'On recognising the existing political regime in Russia as Ruscism and condemning its ideological foundations and social practices as totalitarian and hateful'.
This statement calls upon the United Nations, the European Parliament, the Parliamentary Assembly of the European Council, the Parliamentary Assembly of the OSCE, the Parliamentary Assembly of NATO, and governments and parliaments of foreign states to support the condemnation of the ideology, policy and practice of Ruscism.
The resolution's sponsors believe that it will "allow forms of aggression to be defined and encourage countries around the world to condemn Russia's policy which is leading to the commission of war crimes and the genocide of the Ukrainian nation."
The statement should also help international institutions to establish a common approach in defining the current Russian policy.
Quote from an explanatory note regarding the statement: "Justification for the necessity of adopting this resolution: The Russian Federation's brutal and unprovoked war against Ukraine has made the whole world see the true essence of Vladimir Putin's political regime as a neo-imperialist totalitarian dictatorship which is repeating the worst practices of the past and embodies the ideas of fascism and national socialism in the modern version of Russian fascism (Ruscism)."
Journalists fight on their own frontline. Support Ukrainska Pravda or become our patron!