Ukraine's Armed Forces post video with Zaluzhnyi to dispel Russian propaganda lies
Thursday, 25 May 2023, 17:43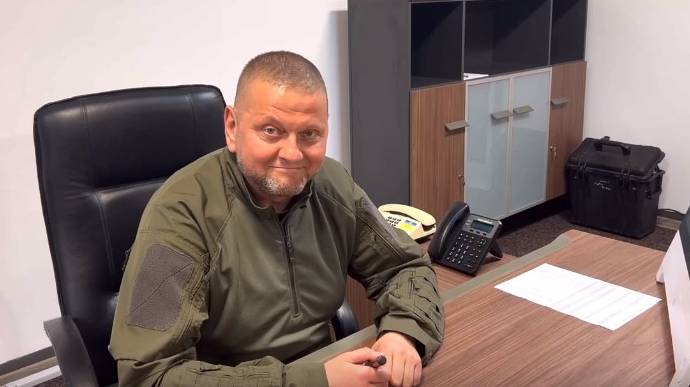 Anatolii Shtefan, a serviceman of the Armed Forces of Ukraine, has posted a video with Valerii Zaluzhnyi, the Commander-in-Chief of the Armed Forces of Ukraine, to confirm that Russian propaganda is spreading fakes about his health.
Source: Ukraine's Armed Forces officer Anatolii Stierlitz Shtefan
Quote from Shtefan: "Bad news for Russian propaganda! Valerii Fedorovych [Zalyzhnyi] is feeling well and continues to plan the liberation of Ukrainian lands from the Russian invaders!
Advertisement:
Together with the Commander-in-Chief, and only forward to our common Victory."
Details: Stefan emphasises that the video was recorded on 25 May. In the video, Zaluzhnyi thanked the Ukrainians and promised that Ukraine would definitely win.
According to the UP, the Office of the President states that on the morning of 25 May, Zaluzhnyi took part in a conference call and talked with the president.
Background:
In May, Russian propagandists began distributing a fake, citing anonymous sources, that Zaluzhnyi had sustained a head injury and multiple shrapnel wounds during an alleged missile attack in early May on a command post near the village of Posad-Pokrovske near Kherson.
This is not the first attempt by Russian propagandists to spread disinformation about the commander-in-chief.
On 20 May, Hanna Maliar, Ukraine's Deputy Defence Minister, said that Russia is spreading false claims about the "disappearance" of Ukraine's Commander-in-Chief Valerii Zaluzhnyi due to increased tension in Bakhmut, Donetsk Oblast.
Journalists fight on their own frontline. Support Ukrainska Pravda or become our patron!