Russians hit suburbs of Dnipro: 13 injured, including child, people under rubble
Saturday, 3 June 2023, 22:04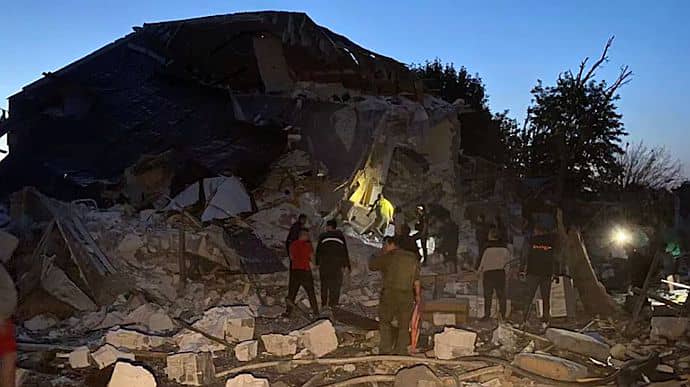 An explosion rang out in Dnipro on Saturday evening before the announcement of an air-raid alert.
Source: Serhii Lysak, Head of Dnipropetrovsk Oblast Military Administration; Suspilne (Ukraine's public broadcaster); alerts.in.ua
Quote from Lysak: "The explosion rang out in the Pidhorodne hromada [a hromada is an administrative unit designating a town, village or several villages and their adjacent territories – ed.] in the Dnipro district.
Advertisement:
A two-story residential building was damaged. People remain under the rubble.
Previously, there are six injured civilians, among them a 6-year-old boy. All are hospitalised in moderate condition.
Two fires broke out, firefighters are putting out the flames. The rescue unit was also mutilated."
Update: Volodymyr Zelenskyy, President of Ukraine, has reported that Russian forces attacked Dnipro and hit an area between two two-story residential buildings. There are people under the rubble.
"Once again, Russia proves it is a terrorist country. The Russians will bear responsibility for everything they committed against our state and people," he wrote.
Later, Serhii Lysak reported that a man was pulled out from under the rubble of the house; there are still people there.
The number of injured rose to 13 people, including 3 children: boys aged 6, 11 and 15.
"Almost all the injured are hospitalised. Their condition is of medium severity. One person will be treated on an outpatient basis. The victims have traumatic brain injury, shrapnel wounds, bruises," the head of the Oblast Military Administration said.
Details: According to the correspondents of Suspilne, the explosion occurred even before the alarm was sounded.
As of 21:20, an air-raid alert has been sounded in Dnipropetrovsk, Kharkiv, Zaporizhzhia, Donetsk, and Luhansk Oblasts; besides, it is permanently on in occupied Crimea.
Journalists fight on their own frontline. Support Ukrainska Pravda or become our patron!