China's envoy does not believe US-made Patriot shot down Russian hypersonic missiles over Ukraine in May – Financial Times
Wednesday, 5 July 2023, 11:39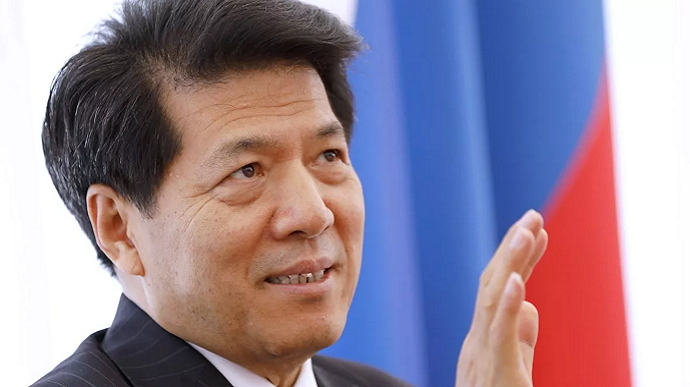 During his visit to Kyiv in mid-May, Li Hui, China's Special Representative for Eurasian Affairs, did not believe that US-made Patriot air defence missile systems had successfully engaged Russian Kinzhal hypersonic missiles and refused to see evidence of this.
Source: The Financial Times, citing Ukrainian Defence Minister Oleksii Reznikov and Ukrainian diplomats
Details: The media outlet writes, citing Ukrainian diplomats, that Li "did not believe that US-made Patriots had intercepted Russia's hypersonic missiles".
Advertisement:
"I proposed that if there are doubts, we are ready to provide proof," said Reznikov, adding that Li had left Kyiv without familiarising himself with the evidence.
Previously: On 5 May, the Ukrainian military website Defense Express reported that Ukrainian forces had shot down a Kinzhal missile for the first time. At first, the Ukrainian Air Force denied this, but eventually, its Commander Mykola Oleshchuk confirmed the shooting down of the target.
Later, the US Department of Defense officially confirmed that the Ukrainian military had shot down a Russian Kinzhal missile using a US-made Patriot.
Background:
On 16-17 May, Chinese government Special Representative Li Hui, China's ambassador to Russia for 10 years, visited Ukraine.
On 26 April, Zelenskyy spoke by phone with Chinese President Xi Jinping. This was the first conversation between the two countries' leaders since Russia's full-scale invasion of Ukraine in February 2022.
During the conversation, the leaders agreed that China would send Li Hui as a special representative to Ukraine, as well as to Russia, Poland, France and Germany, to communicate on the settlement of the "Ukrainian crisis".
On the eve of 24 February 2023, the Chinese Foreign Ministry published its proposals for resolving Russia's war against Ukraine. The document proposed a cease-fire that would freeze Russian troops on Ukrainian territory.
Chinese President Xi Jinping met with Russian dictator Vladimir Putin a month after releasing this vague peace plan. Beijing is trying to position itself as a potential mediator in the conflict. China's position was met with scepticism in the West.
Chinese Special Representative Li Hui met with President Volodymyr Zelenskyy in Ukraine and told him there is no panacea for the "crisis" and that ending the war will require "creating conditions for a ceasefire and peace talks". Li also met with Ukrainian Foreign Minister Dmytro Kuleba.
Journalists fight on their own frontline. Support Ukrainska Pravda or become our patron!