China to send its former ambassador to Russia on visit to Ukraine
Wednesday, 26 April 2023, 16:30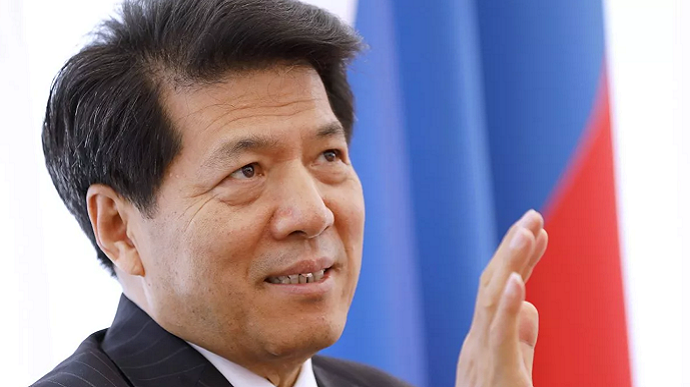 Li Hui, a special representative of the People's Republic of China who is a former Chinese ambassador to Russia, is to be sent to Ukraine and other countries for talks on regulating the "Ukrainian crisis" [the war – ed.].
Source: Xinhua, citing remarks made by the leader of the People's Republic of China, Xi Jinping, during a phone call with Ukrainian President Volodymyr Zelenskyy; CNN, citing a briefing of the Ministry of Foreign Affairs of the People's Republic of China
Details: It is reported that the purpose of his visit will be to conduct in-depth communication with all parties regarding the political settlement of the "crisis" in Ukraine.
Advertisement:
Update: The Chinese Foreign Ministry clarified that the envoy to Ukraine and "other countries" will be Li Hui, who is a former Chinese ambassador to Russia [from 2009 to 2019 – ed.]. The ministry did not specify when Li would make the trip or which other countries he would be visiting.
Xinhua later reported: President Xi said he appreciated President Zelenskyy's continued focus on developing Sino-Ukrainian ties and cooperation with China, and thanked Ukraine for providing significant assistance in evacuating Chinese citizens last year.
During the phone call with Zelenskyy, Xi noted that bilateral relations between Ukraine and China have undergone 31 years of development and reached the level of strategic partnership. Mutual respect for sovereignty and territorial integrity, Xi said, is the political foundation of bilateral relations.
China's desire to develop relations with Ukraine is consistent and clear, Xi said, adding that regardless of how the international situation changes, China is ready to work with Ukraine to promote mutually beneficial cooperation between the two countries.
Previously:
Background:
On 16 April, Ukrainian Foreign Minister Dmytro Kuleba reported that he had discussed the principles of establishing peace in Ukraine with his Chinese counterpart Qin Gang.
On 20-22 April, Xi Jinping paid an official visit to the Russian Federation, where he met with Russian dictator Vladimir Putin.
It was reported earlier that Chinese leader Xi Jinping planned to speak with Ukrainian President Volodymyr Zelenskyy for the first time since the start of the full-scale war in Ukraine.
On 24 February, Zelenskyy said that he would like to have a bilateral meeting with the Chinese leader.
Before that, the Chinese Foreign Ministry had published a so-called "peace plan" with its ideas for the settlement of Russia's war against Ukraine. The document consists of 12 points.
Journalists fight on their own frontline. Support Ukrainska Pravda or become our patron!