Chinese envoy met with Zelenskyy: "There is no panacea for the crisis"
Thursday, 18 May 2023, 10:38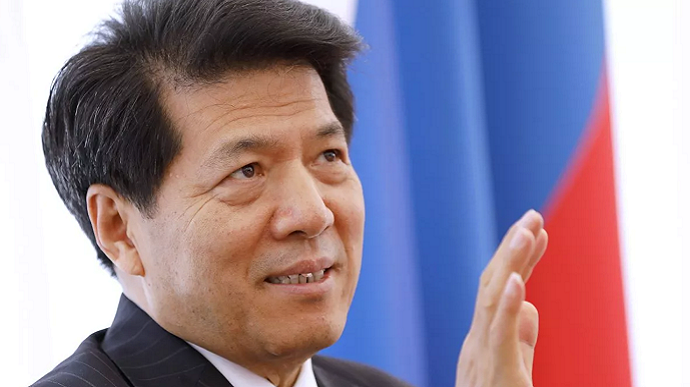 Li Hui, a Chinese Special Representative, met with President Volodymyr Zelenskyy in Ukraine and told him that there is no panacea for the "crisis", and ending the war will require all parties to "create conditions for ceasefire and peace talks".
Source: Bloomberg
Details: According to a report by the Chinese Foreign Ministry on Thursday, Li told Zelenskyy that "there is no panacea for the crisis".
Advertisement:
The Chinese envoy added that ending the war will require all parties to "build up trust and create conditions for ceasefire and peace talks".
Also, according to him, China will help Ukraine "within its own ability".
The readout does not say how Zelenskyy responded, Bloomberg says, and the Ukrainian side has not acknowledged their meeting.
Previously: Li met with Dmytro Kuleba, Ukrainian Foreign Minister.
Kuleba said that Ukraine would not accept proposals that would entail loss of its territories or the freezing of the conflict.
Li Hui is a former Chinese ambassador to Moscow. He will also visit Poland, France and Germany as part of his tour.
According to a Western diplomat in Beijing familiar with Li's route, the Chinese government's special representative also added a visit to Brussels to his trip.
Note:
On 16-17 May, Chinese government Special Representative Li Hui, China's ambassador to Russia for 10 years, visited Ukraine.
On 26 April, Zelenskyy spoke by phone with Chinese President Xi Jinping. This was the first conversation between the two countries' leaders since Russia's full-scale invasion of Ukraine in February 2022.
During the conversation, the leaders agreed that China would send Li Hui as a special representative to Ukraine, as well as to Russia, Poland, France and Germany, to communicate on the settlement of the "Ukrainian crisis".
On the eve of 24 February 2023, the Chinese Foreign Ministry published its proposals for resolving Russia's war against Ukraine. The document proposed a cease-fire that would freeze Russian troops on Ukrainian territory.
Chinese President Xi Jinping met with Russian dictator Vladimir Putin a month after this vague peace plan was released. Beijing is trying to position itself as a potential mediator in the conflict. China's position was met with scepticism in the West.
Journalists fight on their own frontline. Support Ukrainska Pravda or become our patron!