Video appears on Chechen leader's social media amid rumours he is critically ill or dead
Sunday, 17 September 2023, 17:24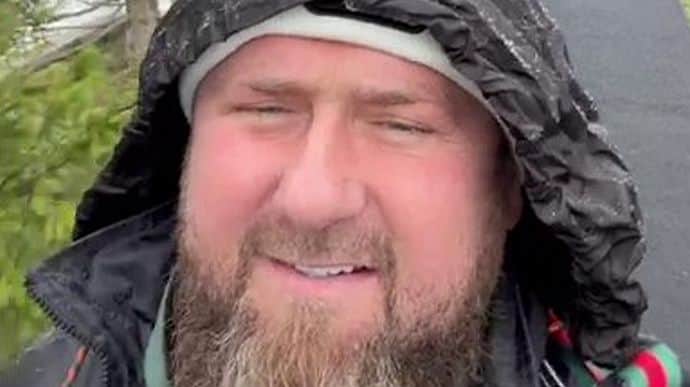 Ramzan Kadyrov, the Kremlin-controlled Head of Chechnya, has posted a personal video on social media for the first time in two weeks amid rumours of a sharp deterioration in his health or even death. [Chechnya is a federal subject of Russia; the Ukrainian parliament has recognised it as the temporarily Russian-occupied territory of the Chechen Republic of Ichkeria.]
Source: Kadyrov on Telegram; Agentstvo (Agency) news outlet; Latvia-based Russian media outlet Meduza
Details: The video posted on Sunday features Kadyrov walking down an asphalt path in the rain. One of the two videos posted shows a building that looks like Kadyrov's residence in Grozny. The temperature in Grozny on Sunday was around 16 degrees Celsius and it was raining, according to the meteorological services Yandex.Pogoda (Yandex.Weather) and Gismeteo.
Advertisement:
The videos are captioned: "I strongly advise everyone who cannot distinguish truth from lies on the internet to take a walk in the fresh air and put their thoughts in order." However, in the video itself, Kadyrov is more abstract, saying that he is listening to the Quran and has walked several kilometres.
Prior to this, it had been over two weeks since the last videos of Kadyrov that indicate the time of filming appeared on his accounts and the Russian-controlled state channel of the Chechen Republic, Agentstvo's analysis found.
Rumours of a dramatic decline in Kadyrov's health began to swirl on the evening of Thursday, 14 September. One such report emerged on the opposition Chechen Telegram channel NIYSO, which reported on the night of 14-15 September that Kadyrov was in a coma.
Andrii Yusov, a representative of Ukraine's Defence Intelligence, also said on Friday, 15 September that Kadyrov was in a critical condition.
Within hours of Yusov saying this, a 10-second video appeared on the social media accounts of Kadyrov and his assistant Umar Daudov, featuring Kadyrov together with his family, shot from behind. It is impossible to determine when this video was filmed, but Russian propaganda outlets RIA Novosti, Moskovsky Komsomolets and Tsargrad all reported on it.
Before Sunday, the most recent videos on Kadyrov's social media, on his official website and on the website of the Grozny State TV and Radio Company where the time of filming could be confirmed were dated 1 September. One video showed Kadyrov attending a ceremony to mark the start of the school year at the Grozny Education Centre.
There have been no photos or videos of Kadyrov relating to current events since 1 September. His channels have commented on such events only in writing.
A video of him out for a walk with his family and jogging was posted on social media on 8 September, a recording of him talking to his grandson Yusuf on 9 September, a video of him meeting up with his mother on 10 September, and a video of him visiting the head of the Chechen government, Magomed Daudov, on 12 September. Kadyrov does not say a word in any of the videos, and the time of recording cannot be identified.
Meduza reported that after the video appeared on Kadyrov's Telegram channel on Sunday, Chechen human rights activist and oppositionist Abubakar Yangulbayev claimed that Kadyrov had died. He did not provide any evidence or references to the source of the information.
Ukrainska Pravda is the place where you will find the most up-to-date information about everything related to the war in Ukraine. Follow us on Twitter, support us, or become our patron!