Helicopter seized from Ukrainian oligarch is handed over to military
Wednesday, 20 September 2023, 11:13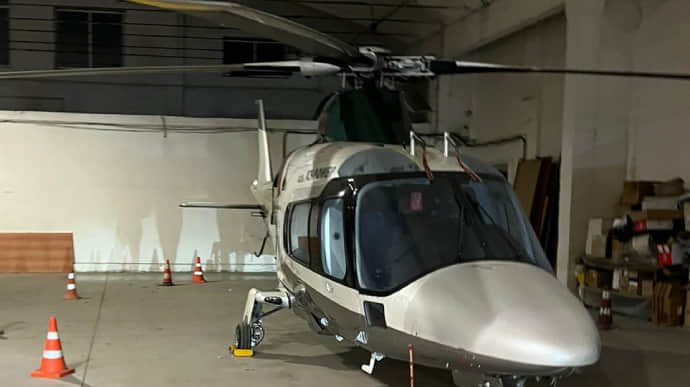 A helicopter seized from Kostiantyn Zhevago, former Ukrainian MP, owner of iron ore producer Ferrexpo plc and shareholder of Bank Finance & Credit, is to be used for missions by a combat unit of the Armed Forces of Ukraine.
Source: press service of the State Bureau of Investigation
Advertisement:
Details: The helicopter was seized in March 2023 during a criminal investigation by Ukraine's State Bureau of Investigation.
Now, by a decision of Ukraine's military command, the helicopter has been expropriated by a military unit to be used in combat missions.
The aircraft belonged to a legal entity controlled by the former MP. Zhevago used it for personal purposes when he was in Ukraine, the Bureau notes.
Background:
On 27 September 2019, Zhevago was served with a notice of suspicion as part of a criminal investigation into the embezzlement of US$113 million from Bank Finance & Credit. Notices of suspicion were also served to several of the bank's senior managers.
On 9 October 2019, it was reported that the businessman had been put on the wanted list in Ukraine. In July 2021, the State Bureau of Investigation reported that Zhevago had also been declared wanted by Interpol.
On 27 December 2022, the French police detained Zhevago in the ski resort of Courchevel. The court of Chambéry ordered Zhevago's extradition arrest further to a request from Ukraine's State Bureau of Investigation.
On 30 March 2023, the court in Chambéry rejected Ukraine's request for Zhevago's extradition.
According to Ukrainska Pravda's information, Ukraine has appealed the Chambéry court ruling.
Ukrainska Pravda is the place where you will find the most up-to-date information about everything related to the war in Ukraine. Follow us on Twitter, support us, or become our patron!