The missile strike on the centre of Donetsk was carried out from the territory of the Russian Federation - Conflict Intelligence Team
Tuesday, 15 March 2022, 21:35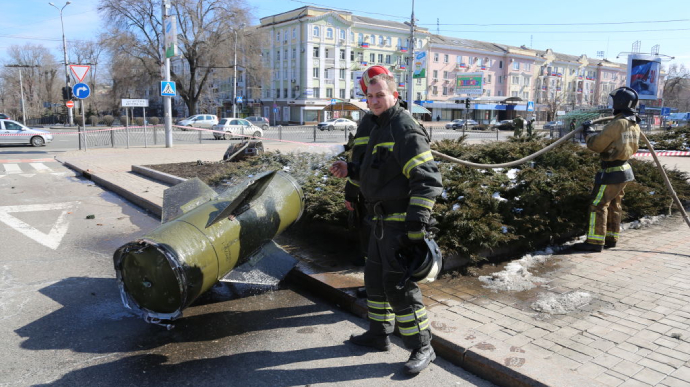 DENYS KARLOVSKY - TUESDAY, 15 MARCH, 2022, 22:33
A cluster munition strike in the centre of Donetsk on March 14 from the "Tochka-U" high-precision missile system was carried out from Russian-controlled territory.
Source: Analysis of the founder of the Conflict Intelligence Team Ruslan Leviev on-air "Nastoyaschee Vremya" (Current Time TV channel).
Advertisement:
Quote: "There are many photos taken by Donetsk residents and separatists showing the missile fragment of the "Tochka-U" missile. This missile fragment is, roughly speaking, the tail of the missile. It lies on Shevchenko Boulevard. Judging by its position, it can be seen that its tail points to the southeast and its front part points to the northwest.
The missile tail is large and heavy. When the warhead is separated in the air, the missile tail maintains the original direction and speed.
The rocket has arrived, judging by this evidence, from the southeast. The missile reach of the complex "Tochka-U" is 120 km. And the entire range of 120 km to the southeast is an area controlled by Russian forces and separatist forces. There are no Ukrainian forces there. We are inclined to believe that, in all probability, it was a provocation."
Details: Leviev explained that Conflict Intelligence Team journalists have been investigating various military conflicts since 2014. They always noticed a pattern with "Tochka-U" missiles that the "tail" of the missile, which fell down, indicated the launch direction.
He also denied that the missile was shot down by air defence systems, the claim made by the representatives of the self-proclaimed Russian-backed breakaway state of "Donetsk People Republic."
The journalist added that the video of the explosion showed that the missile was equipped with cluster munitions. According to him, this also confirms that the missile was not shot down in the air.
For reference: The Conflict Intelligence Team is a group of international investigative journalists investigating military conflicts based on open data and eyewitness accounts on social networks.
Previously:
On 14 March, Russian propaganda sources reported an alleged missile strike by the Ukrainian Armed Forces in central Donetsk. Russian propagandists noted that the strike was carried out with the "Tochka-U" complex. According to them, about 20 people were killed, and 28 others were injured.
At the same time, the Armed Forces of Ukraine representative assured that the Ukrainian side did not carry out missile strikes on Donetsk. He also suggested comparing the condition of buildings and streets in Donetsk during the eight years of war with Ukraine to the condition of Ukrainian cities of Mariupol, Kharkiv, or Chernihiv during the 20 days of war with Russia.