Zelenskyy lists which countries are ready to discuss security guarantees for Ukraine
Wednesday, 6 April 2022, 19:20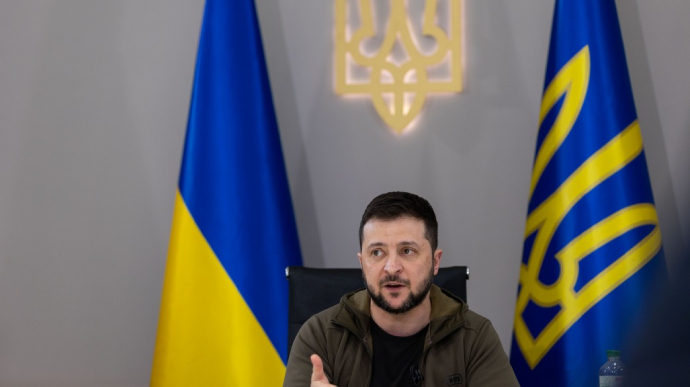 DENYS KARLOVSKYI - WEDNESDAY, 6 APRIL 2022, 19:20
President Volodymyr Zelenskyy has said that advisers to the leaders of 7 countries are ready to discuss the content of an international agreement on security guarantees for Ukraine.
Source: Zelenskyy's interview for the Turkish TV channel Habertürk
Advertisement:
According to Zelenskyy: "Let me tell you frankly, today there has been no joint meeting between Ukraine and the circle of those countries which we see as being among the guarantors of security for our state, or there are countries which are willing to support it on their own - no such joint meeting has taken place yet. However, this meeting will definitely take place, because it has been confirmed by representatives of the guarantor states.
The United States, the UK, Turkey, Poland, Germany, France, Israel - these are not all the guarantors yet, but I have named the countries that are willing to come and discuss the list of security guarantees.
The first step is to meet with representatives of these countries. Then there will be a common understanding of the security guarantees, and then there will be communication with the Russian side.
Details: The president explained that first there should be a meeting of special advisers to the heads of state of these countries to agree on a common vision of security guarantees for Ukraine.
Zelenskyy said that the leaders of each of the countries listed have a different vision of the guarantees, as well as a different measure of readiness to physically intervene in the event of a possible conflict or war against Ukraine.
Separately, such an agreement should spell out the mechanisms in the event of a breach of guarantees by any of the guarantor countries. According to the president, such a mechanism must provide for concrete sanctions and international isolation measures for a country that violates this agreement. The amount and types of weapons to be provided to the Ukrainian Armed Forces in the event of an attack should also be specified.
Ukraine is ready to discuss signing an appropriate international agreement on security guarantees with Russia when the other countries assure their readiness to join in the protection of Ukraine in the event of possible aggression.
Background:
In an interview with Ukrainian journalists on 5 April, Zelenskyy said he was waiting for a response from Ukraine's key partners. He said that it was important for Ukraine to have guarantees from countries that are key geopolitical players.
The Kremlin said that a face-to-face meeting between the Ukrainian and Russian presidents would be possible only after a legal document is signed. On 4 April, Russian Foreign Minister Sergey Lavrov said that he saw "chances" of reaching a compromise agreement between Russia and Ukraine.
The head of the Ukrainian negotiating team, Davyd Arakhamiya, said that before an international agreement is signed between Ukraine, Russia and the guarantor countries, the Russian command must fully withdraw its troops to the positions they held as of 23 February 2022 at the very least. Next, an all-Ukrainian referendum must be held in which Ukrainians must choose whether they should abandon Ukraine's path towards joining NATO.