There may be more people killed by the Russians in Mariupol: 21,000 bodies have already been buried
Monday, 30 May 2022, 12:35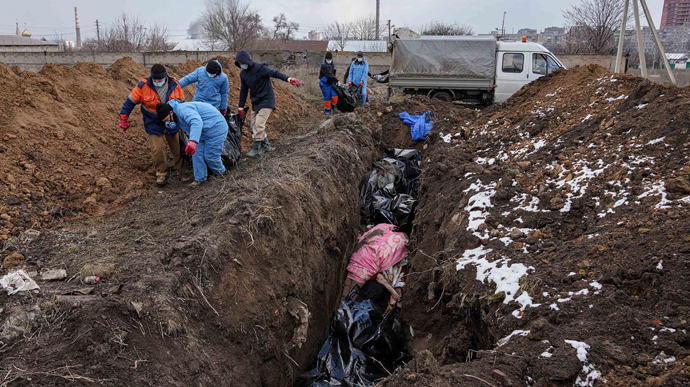 ALONA MAZURENKO — MONDAY, 30 MAY 2022, 12:35
The occupiers could have killed more than 22,000 people in Mariupol. According to local authorities, the Russians have already buried 16,000 people in mass graves, and another 5,000 have been buried by communal workers by mid-March.
Source: Mariupol City Council
Quote: "The assessment of civilians killed by the Russian army may increase significantly.
Within a month, 25 new trench sectors appeared at the Starokrymske cemetery. The bodies are placed in several layers and then "masked" with plates as individual burials.
Since mid-April, the occupiers have buried at least 16,000 Mariupol residents in mass graves near the villages of Staryi Krym, Manhush and Vynohradne.
Another 5,000 people were buried by municipal services by mid-March."
Details: It is noted that thousands of bodies still remain under the rubble, in natural cemeteries and in temporary mortuaries.
According to Mayor Vadym Boichenko, there may be more than 22,000 victims in Mariupol.
Quote from Boichenko: "We estimated the death toll at Mariupol at 22,000, but more and more facts show that the consequences of the Ruscists' crime are much worse. It needs special attention from the world community, as does the terrible situation of the local population under the occupation."