The occupiers have brought military equipment and armaments into the engine room of Zaporizhzhia Nuclear Power Plant – Energoatom
Thursday, 21 July 2022, 13:59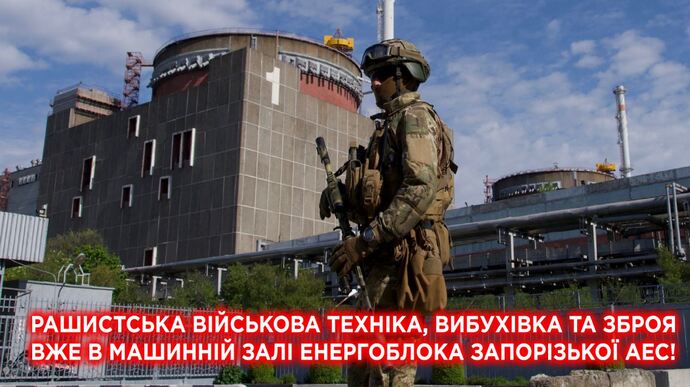 "UKRAINSKA PRAVDA" – THURSDAY, 21 JULY 2022, 13:59
The occupiers have brought at least 14 pieces of heavy military equipment with ammunition loads, armaments and explosives into the engine room of the 1st power unit of the Zaporizhzhia Nuclear Power Plant (ZNPP).
Source: Energoatom on Telegram
Advertisement:
Quote: "The whole arsenal of heavy military equipment that had been brought into the engine room with all its ammunition is now located near the equipment that operates the work of the turbo generator. That is, the military equipment is located in close proximity to the main oil tank which contains easily flammable oil that cools down the steam turbine. There is also explosive hydrogen there used for cooling down the generator".
Details: The occupiers' military equipment has blocked access to the power unit's fire-fighting equipment. Should a fire start as a result, for instance, of the detonation of ammunition, the magnitude of the tragedy would be comparable to that of the Chornobyl Nuclear Power Plant.
Background: On 20 July, the occupiers demanded that the ZNPP administration open the doors of the engine rooms of the 1st, 2nd and 3rd power units in order to bring their entire military arsenal there.
Energoatom has called upon the international community to take all measures possible to set ZNPP free from the occupiers.