Russian Federation Council declares Russia has enough resources to win the war
Thursday, 1 September 2022, 08:25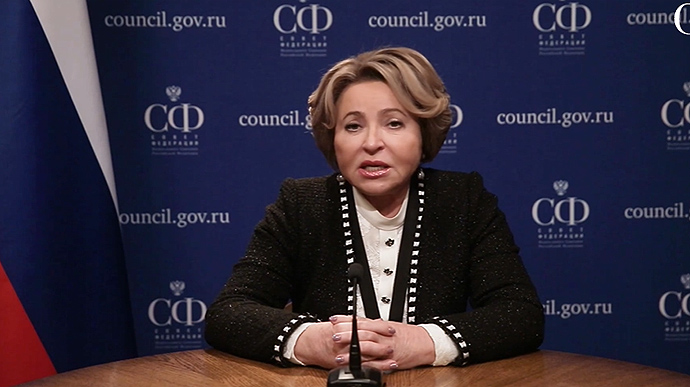 IRYNA BALACHUK – THURSDAY, 1 SEPTEMBER 2022, 08:25
Valentina Matviyenko, Chairwoman of the Federation Council of the Russian Federation, has declared that Russia has sufficient resources to win the war with Ukraine.
Source: Valentina Matviyenko in a blog post on the Federation Council website
Advertisement:
Quote from Matviyenko: "Without a doubt, we will have enough resources to secure our victory – not just material resources, but intellectual and moral too."
Details: The chairwoman said that the Russian army is armed with the most modern weapons and equipment and the Russian occupiers "act humanely: they never use civilians as 'human shields', never fire on residential neighbourhoods, never destroy social infrastructure and public utilities".
Matviyenko added that the Russian troops "had never been blemished by massacring prisoners of war".
She reiterated the Kremlin's narrative concerning the "timeliness" of the "special operation" in light of the grave danger that was allegedly threatening Russia. Matviyenko asserted that on the battlefield Russia is up against "not only the Ukrainian Armed Forces, but also Nazi battalions, the collective West and NATO". The outcome of the "special operation" will decide not only Russia's existence "as an integral, sovereign, strong state, but also the shape of the world".
Matviyenko also said that from 1 September onwards, all schools will have to begin each week with a ceremonial raising of the Russian flag and the singing of the Russian national anthem. She added that numerous Russian senators will take part in the "patriotic education of schoolchildren in the regions they represent."
She also believes that history books have to be rewritten; in particular, discussions concerning WWII and the most recent history of Russia.
Previously: Russian Minister of Defence Sergey Shoigu said that Russia's so-called "special operation" in Ukraine is unfolding as planned.
Journalists fight on their own frontline. Become our patron, support our work!