Head of Office of President of Ukraine meets Jewish organisations and requests aid
Thursday, 20 October 2022, 14:34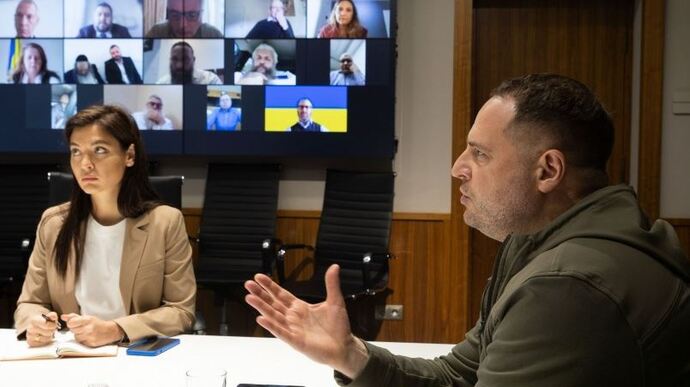 STANISLAV POHORILOV – THURSDAY, 20 OCTOBER 2022, 13:34

Andrii Yermak, the Head of the Office of the President of Ukraine, has held a video conference with representatives of leading Jewish organisations, during which he called on representatives of these organisations to facilitate the provision of modern air defence systems to Ukraine.

Source: press service of President's Office
Quote by Yermak: "Today, the voice of each of you and your organisations is critically important regarding air defence, in which Israel has really great experience, and most importantly – it has these systems".

Details: During the meeting, Yermak spoke about the recent massive attacks on Ukraine by Iranian-made missiles and drones. He described Russia as the "European Hezbollah".

Yermak is convinced that Jewish public organisations are now able to influence the situation and persuade the Israeli government to provide the Ukrainian state with the necessary systems.
In turn, the Chief Rabbi of Kyiv offered to establish an international committee of Jews to support Ukraine in the fight against terror and appeal to the government and people of Israel to support Ukraine.

Background:

Advertisement:
On 24 September, President Volodymyr Zelenskyy of Ukraine said that he was "shocked" by Israel's lack of aid to Ukraine since the beginning of Russia's full-scale invasion.
On 16 October, Nachman Shai, Israel's Minister of Diaspora Affairs, announced that since Iran is transferring ballistic missiles to Russia, Jerusalem should provide military aid to Ukraine, as the United States and NATO countries do.
On the next day, Dmitry Medvedev, Deputy Chairman of the Security Council of the Russian Federation, said that Israel's provision of military aid to Ukraine will destroy all relations between Russia and Israel.
Journalists fight on their own frontline. Support Ukrainska Pravda or become our patron!