Kherson journalists recognised their car stolen by Russian campaigners
Friday, 21 October 2022, 14:45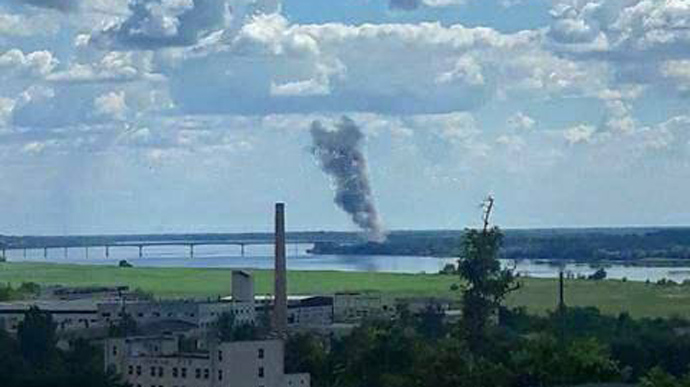 ALONA MAZURENKO – FRIDAY, 21 OCTOBER 2022, 14:45
Ukrainian journalists have recognised their car and equipment among the loot that Russian propagandists tried to take out of occupied Kherson.
Source: Mykhailo Svarychevskyi, branch manager of Suspilne Kherson [public broadcasting company], on Facebook
Advertisement:
Quote: "We are observing the "self-deportation" of collaborators from occupied Kherson. To survive in the swamps [of Russia], they rob [us] here. But, as it happens, not everyone was destined to see those swamps.
I confirm that this is a stolen vehicle that belongs to Suspilne Kherson. Considering the long period of occupation, this is not really great news for us.
Well, for the sake of news, hidden GPS trackers were installed on the company's moving property (equipment, vehicles). The strike [launched by Ukrainian forces against a convoy of Russian occupiers at a pontoon crossing under the Antonivka Bridge - ed.] was highly accurate."
Background:
Yurii Sobolevskyi, the First Deputy Chairman of Kherson Oblast Council, later reported that on 20 October, around 23:00, the Armed Forces of Ukraine struck a [pontoon] crossing organised by the occupiers under the Antonivka Bridge in Kherson, but "there were no civilians from the city in the convoy moving across the crossing."
The day before yesterday, on 19 October, the Antonivka Bridge and the crossing had been inspected by Sergey Aksyonov, the puppet head of Russian-occupied Crimea, and Sergey Kiriyenko, the Deputy Head of the Administration of the President of Russia.
On 20 October, Volodymyr Zelenskyy, the President of Ukraine, announced that the Russian occupiers had mined the Kakhovka Hydroelectric Power Plant dam and planned a historic catastrophe.
Journalists fight on their own frontline. Support Ukrainska Pravda or become our patron!