Petrol station in Dnipro catches fire after being hit by fragments of Russian missile, killing civilians
Tuesday, 25 October 2022, 22:08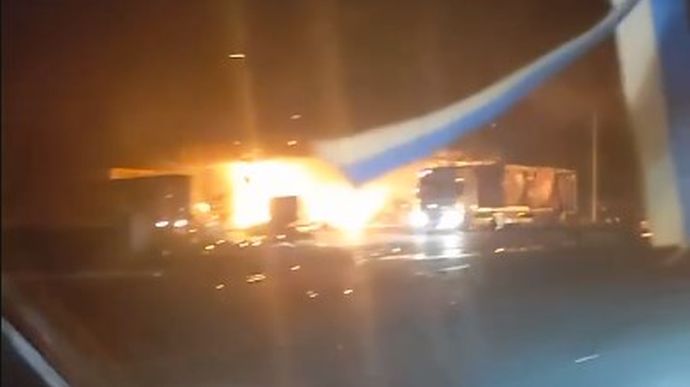 UKRAINSKA PRAVDA – TUESDAY, 25 OCTOBER 2022, 22:08
A petrol station in the city of Dnipro has caught fire after being hit by fragments of a Russian missile. Borys Filatov, the Mayor of Dnipro said at least two civilians had been killed.
Source: Kyrylo Tymoshenko, the Deputy Head of the Office of the President of Ukraine, on Telegram; Borys Filatov, the Mayor of Dnipro, on Telegram
Advertisement:
Quote from Tymoshenko: "Dnipro. A BRSM petrol station caught fire. Russian terrorists launched their missiles on the city but the fragments of a missile hit a local petrol station. Fire is still being extinguished."
Quote by Filatov: "It is currently known that at least two civilians have died: one in a car, and the other one at a car wash next to the petrol station. We're expecting an update from the military administration".
Details: The air-raid siren in Dnipropetrovsk Oblast lasted from 21:00 to 22:00.
At 22:15, Tymoshenko reported that the fire was localised in an area of 300 square metres.
Journalists fight on their own frontline. Support Ukrainska Pravda or become our patron!