Putin calls large-scale strike on Ukraine revenge for Sevastopol
Monday, 31 October 2022, 21:25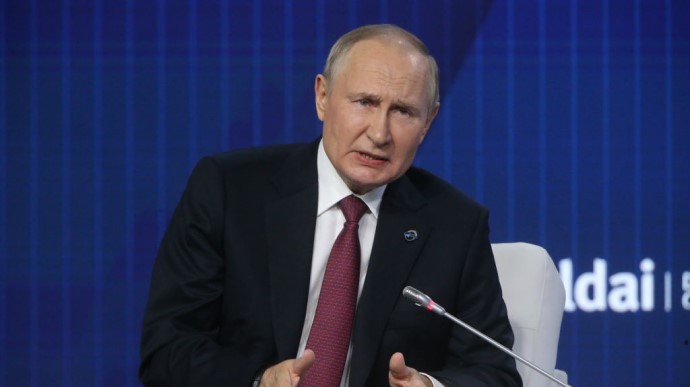 Russian President Vladimir Putin said that Russia carried out a large-scale missile strike on Ukraine on Monday, 31 October, at least "to an extent" in response to the recent attack on the Russian Black Sea Fleet in Sevastopol Bay.
Source: Vladimir Putin during a press conference in Sochi, in response to a journalist's question
Quote:
Advertisement:
Journalist: "Are the extensive strikes on the territory of Ukraine a response to the recent events in Sevastopol?"
Putin: "This is true to an extent. But we can do more."
Background:
On 29 October, explosions were reported in the Russian-occupied city of Sevastopol on the Crimean Peninsula. The Russian Ministry of Defence claimed that the Armed Forces of Ukraine had attacked Sevastopol using unmanned surface vessels (USVs) at 04:00 on 29 October. The Russian Ministry of Defence confirmed that the Ivan Golubets minesweeper sustained damage as a result of the attack.
Later, it became known that at least three ships of the Russian Black Sea Fleet, including the Admiral Makarov flagship, were damaged as a result of the USV attack on 29 October.
The Ministry of Defence of the Russian Federation claimed that the USVs that attacked the Russian Black Sea Fleet ships on 29 October were launched from aboard a civilian vessel near Odesa, which, the Russian ministry has claimed, was being used as part of the Grain Initiative. Volodymyr Zelenskyy, President of Ukraine, and Oleksii Danilov, Secretary of the National Security Council of Ukraine, dismissed Russia's claims as nonsense.
On the morning of 31 October, Russian forces attacked Ukraine's critical infrastructure and civilian homes, violating the norms of international humanitarian law and the laws and customs of war.
Ukraine's General Staff reported that Russia attacked Ukraine's military and civilian infrastructure targets using 55 cruise missiles, 45 of which were shot down by Ukrainian defenders.
Journalists fight on their own frontline. Support Ukrainska Pravda or become our patron!