Russia's Defence Ministry shows map with lost territories
Tuesday, 4 October 2022, 20:00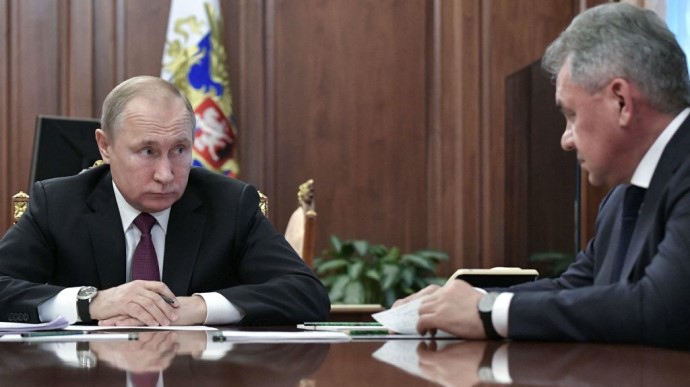 UKRAINSKA PRAVDA — TUESDAY, 4 OCTOBER 2022, 20:00
The Ministry of Defence of Russia has shown a map of combat actions in Ukraine during its daily briefing. It shows, in particular, that the Russian army has retreated by 30 kilometres in Kherson Oblast over the course of the day.
Source: Latvia-based Russia news outlet Meduza and a Russian media outlet Agentstvo
Advertisement:
Details: It is reported that as of 4 October, Russian troops have almost completely withdrawn from Kharkiv Oblast and retreated in the north of Kherson Oblast.
According to the presented map, Russia still has control over a small territory to the north-east of Dvorichne village in Kharkiv Oblast. The previous day, the Ministry of Defence of Russia stated that Russia controlled the whole territory of Kharkiv Oblast to the east of Oskil river.
It means that from 3 to 4 October, the Armed Forces of Ukraine liberated approximately two-thirds of the Russia-controlled territories in the Oblast.
The map also shows the retreat of Russian troops in the north of Kherson Oblast. The previous day, the front line on the map ran near the settlements of Davydiv Brid, Dobrianka, and Zolota Balka. On 4 October, the Defence Ministry showed that the Russian army controlled the territory approximately up to the line between Davydiv Brid and Dudchany.
Thus, the front line in this region has moved to the south by approximately 30 kilometres.
Background:
On 4 October, a number of videos from the newly-liberated settlements in Kherson Oblast were published on social media. Ukrainian troops reported that Davydiv Brid, Starosillia, Arkhanhelske and Velyka Oleksandrivka were liberated.
The Armed Forces of Ukraine also liberated the villages of Bohuslavka and Borivska Andriivka in Kharkiv Oblast from the Russian occupiers.
On 3 October, it became known that the Ukrainian Armed Forces liberated the village of Borova in Izium district, Kharkiv Oblast.
Journalists fight on their own frontline. Support Ukrainska Pravda or become our patron!