Zelensky suggests to Biden that global peace summit be convened
Monday, 12 December 2022, 00:02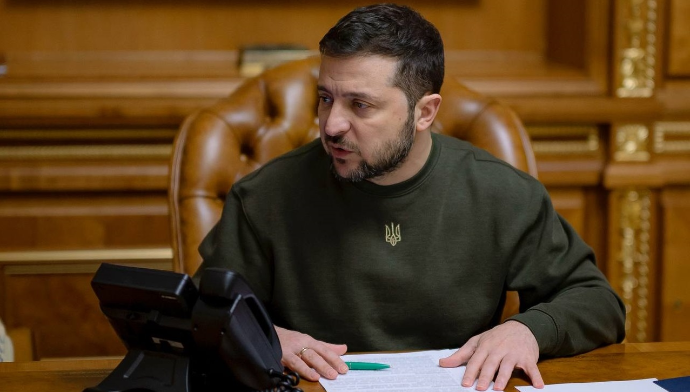 The President of Ukraine, Volodymyr Zelenskyy, has held a telephone conversation with US President Joseph Biden and proposed that a global peace summit be convened.
Sources: Press service of the Office of the President of Ukraine; Zelenskyy on Telegram; Andriy Yermak, Head of the Office of the President of Ukraine, on Twitter
Quote from the press service: "Volodymyr Zelenskyy emphasised that Ukraine strives to achieve peace and noted the importance of consolidating international efforts to achieve this goal. It was for this purpose during the G-20 summit that the President of Ukraine presented the Peace Formula, which includes 10 critical steps, the implementation of which would make it possible to stop this war.
Advertisement:
Volodymyr Zelenskyy outlined the vision of the Ukrainian side, regarding further work in this important direction, and came forward [suggesting] the initiative to convene a Global Peace Summit."
Details: Zelenskyy thanked Biden for another defence aid package, announced on 9 December, as well as for consistently supporting Ukraine's sovereignty and territorial integrity, and for his leadership in consolidating international efforts to counter Russian aggression.
Zelenskyy informed Biden about the consequences of the Russian missile terror that has destroyed about 50% of Ukraine's energy infrastructure. The Ukrainian president praised the aid that the United States has allocated for the reconstruction of Ukraine's energy grid.
Zelensky also called on Biden to do everything possible to help protect the civilian population of Ukraine and the country's critical infrastructure.
Andriy Yermak reported on the telephone conversation between the presidents of Ukraine and the USA on Twitter in a unique way. He posted a missile emoji, possibly hinting at new military aid from the United States.
🇺🇦🇺🇸📞=🚀🌎💪

— Andriy Yermak (@AndriyYermak) December 11, 2022
Updated at 01:30. Following the conversation with Biden, Zelenskyy shared a video message in which he reported on "strong agreements".
Quote: "The G7 summit will be held today, and Ukraine will participate in it. We have aligned our positions with the USA. This will be a very important summit. The news will follow.
During the conversation, I was glad to feel that our Peace Formula was positively received; and this adds optimism. The sooner the steps of the Formula are implemented, the stronger the security guarantees for Ukraine and all of Europe will be.
And we are already starting to work on a global peace summit. A summit that will make the Ukrainian Peace Formula a reality."
Previously:
On 11 December, Zelenskyi spoke with Turkish President Recep Tayyip Erdoğan about Turkey's assistance and the grain corridor.
Later on the same day, President Volodymyr Zelenskyy held a phone conversation with his French counterpart Emmanuel Macron, discussing the Peace Formula.
Journalists fight on their own frontline. Support Ukrainska Pravda or become our patron!