Ukraine's Commander-in-Chief inherits US$1 million and donates it to Ukrainian army
Tuesday, 24 January 2023, 22:26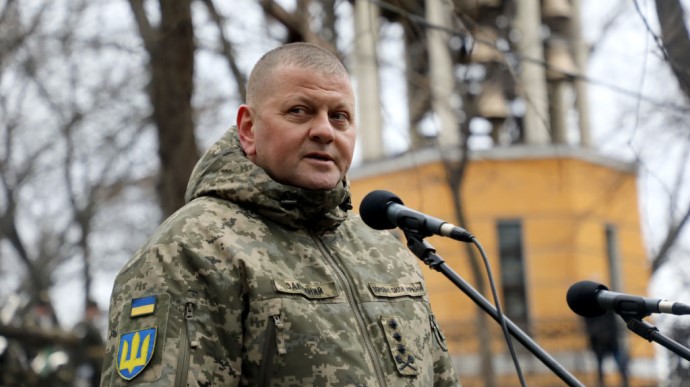 The Commander-in-Chief of the Armed Forces of Ukraine, General Valerii Zaluzhnyi, inherited US$1 million from a Ukrainian American in the United States. In turn, he donated all the money to the Ukrainian army.
Source: The New York Times
Details: The publication reports that Zaluzhnyi received an inheritance from an American of Ukrainian origin, Hryhorii Stepanets. This was reported by the Stepanets family.
Advertisement:
In January, the general donated the entire amount to the Armed Forces of Ukraine. The military's press service confirmed the donation.
The Armed Forces of Ukraine (AFU) confirmed this information, in response to Ukrainska Pravda's request.
Indeed, Stepanets left Zaluzhnyi an inheritance of US$1 million.
Quote from AFU: "General Zaluzhnyi transferred the full amount to the special account at the National Bank of Ukraine dedicated to the Ukrainian Army. SWIFT transaction details from the bank on 5 January 2023 confirmed this.
Quote from Zaluzhnyi: "I gave my whole life to the Armed Forces. And I did not have a single doubt about what to do with the inheritance. Mr. Hryhorii's last will was obviously to support the Ukrainian army through me. I am grateful to everyone who helps the Armed Forces of Ukraine. And I am grateful to my family for their understanding."
Biography of Stepanets for reference:
Stepanets was born in 1938 in the Ukrainian city of Vinnytsia. His father fought in World War II and was killed by the Germans in October 1941. Hryhorii and his mother were evacuated to the Urals, where they suffered from hunger and other hardships. Following the end of the war, they returned to Vinnytsia.
There was also very little food in the city at that time. They survived only thanks to their uncle who had fought in the war (he had been wounded and had lost a leg), who shared his military rations with them.
Stepanets graduated from a middle school and joined the Moscow State University named after Mikhail Lomonosov in 1956; he graduated with a masters degree in Mathematics and Chemistry, as well as a PhD in Physical Chemistry. He was fluent in Ukrainian, Russian, German, Italian and English.
While working at the Geophysical Research and Development Institute in Moscow, he signed a letter in support of anti-Soviet dissidents; soon after that, the Soviet government dismissed him on trumped-up charges. Later, the KGB prosecuted him, and he could no longer get a job. He filed an application for a visa, but they rejected it.
The situation changed when Gorbachev came to power, and Stepanets was granted the right to leave the Soviet Union. In 1989, he arrived in the USA and started working for Microsoft in Redmond, Washington, working as a software developer. Together with another software developer, he invented a patent for decoding the variable-length data codes; the patent was handed over to Microsoft.
Journalists fight on their own frontline. Support Ukrainska Pravda or become our patron!