Russians drop 18 bombs on Sumy Oblast wounding 2 residents
Thursday, 27 April 2023, 00:28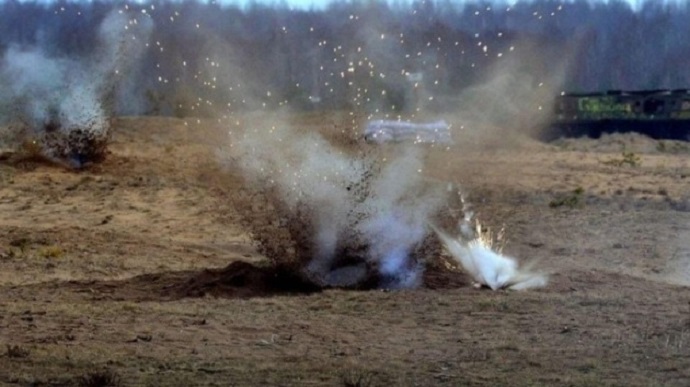 Over the past 24 hout, the Russians attacked border-adjacent areas of Sumy Oblast, discharging a total of 100 projectiles from various weapons on the oblast. Russian invaders dropped 18 bombs on the Yunakivka hromada, injuring two people. [Hromada is an administrative unit designating, in this case, a village of Yunakivka and its adjacent territories – ed.].
Source: Sumy Oblast Military Administration on Telegram
Details: The territories of Bilopillia, Esman, Yunakivka, Shalyhyne and Seredyna-Buda hromadas came under fire, with 100 mortar, artillery and automatic grenade launcher strikes recorded. The attacks have caused destruction.
Advertisement:
Russian attackers shelled Seredyna-Buda hromada using tubed artillery, with 15 strikes recorded. They also fired at the hromada using Grad multiple-launch rocket systems, with four strikes recorded.
Additionally, four unguided missiles were fired from a helicopter at the town of Seredyna-Buda. The air strike damaged four residential buildings.
Seven mortar attacks were recorded on Esman hromada. The attacks damaged a local resident's house and outbuildings.
The Russians dropped 18 bombs on Yunakivka hromada. Two residents of Basivka village were wounded in one of the attacks. The wounded have been taken to hospital.
A tractor hit a mine in Yunakivka hromada. The explosion damaged the tractor's equipment and smashed the windows. The tractor driver was not injured.
Fifteen mortar strikes and 30 automatic grenade launcher strikes on Bilopillia hromada have been recorded.
Shalyhyne hromada was shelled from the territory of the Russian Federation with two strikes recorded. The shelling damaged two residential buildings.
Journalists fight on their own frontline. Support Ukrainska Pravda or become our patron!