Russians attack Mykolaiv using missiles, fatality and casualties reported
Thursday, 27 April 2023, 01:12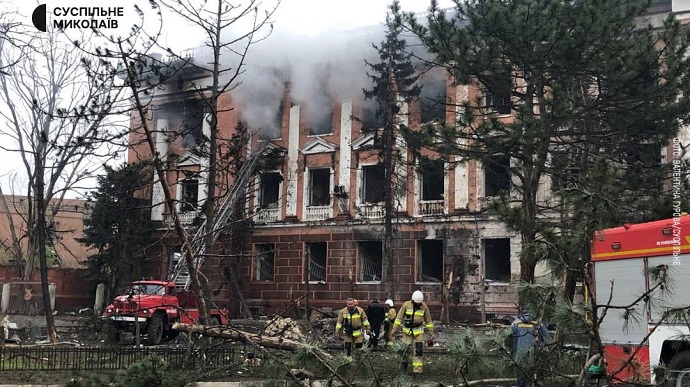 The Russians have attacked Mykolaiv with S-300 missile systems, striking a high-rise building and a low-rise house. Casualties including a fatality are reported.
Source: Vitalii Kim, Head of the Mykolaiv Oblast Military Administration, on Telegram; Oleksandr Sienkevych, Mayor of Mykolaiv, on Telegram; Serhii Shaikhet, Mykolaiv Oblast Police Chief, on Telegram
Quote: "At least one strike at a high-rise building".
Advertisement:
Details: An air-raid warning was issued at 01:01 in Mykolaiv Oblast.
Later, Kim reported a Russian attack on Mykolaiv.
Kim said that preliminary reports indicated the Russians had used S-300 missile systems.
"S-300 - 4 units. [It's a] preliminary information," Kim wrote.
Update: Sienkevych said that around 01:00 in the morning, Mykolaiv residents heard four loud explosions.
"We already know that one of the missiles hit a multi-storey building. Another one hit a low-rise private home. Relevant services are on their way," the mayor said.
Sienkevych added that some houses in the city were having blackouts.
Shaikhet said that there were casualties resulting from a strike at a residential building. Emergency workers and police are investigating the aftermath of the strikes and the number of casualties.
Later, Kim reported five people were wounded in the Russian attack, including two in a serious condition.
Further, Kim reported 15 people wounded and a fatality.
Journalists fight on their own frontline. Support Ukrainska Pravda or become our patron!