Shoigu has unscheduled meeting with Chinese Defence Minister in New Delhi
Friday, 28 April 2023, 11:14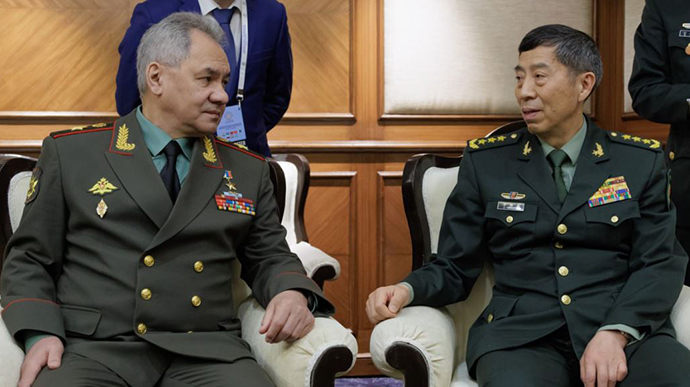 Sergei Shoigu, the aggressor country's Defence Minister, met with his Chinese counterpart Li Shangfu in New Delhi, where a meeting of the defence ministers of the Shanghai Cooperation Organization (SCO) is taking place.
Source: Russian propagandists
Quote: "Shoigu met with the Chinese Defence Minister in New Delhi, where a meeting of the heads of the SCO defence ministers is taking place."
Advertisement:
Details: It is reported that these are unscheduled talks and that Li Shangfu invited Shoigu to China.
Details of the talks between the ministers have not been disclosed.
Background:
On the afternoon of 26 April, it became known that Ukrainian President Volodymyr Zelenskyy had a telephone conversation with Chinese leader Xi Jinping that day. This is the first conversation between the two leaders since the beginning of Russia's full-scale invasion of Ukraine in February 2022.
China will send China's former ambassador to Russia, Li Hui, as a special representative to Ukraine and other countries to communicate on resolving the "Ukrainian crisis" (war – ed.).
Journalists fight on their own frontline. Support Ukrainska Pravda or become our patron!