Zelenskyy: Putin wants to revive Soviet Union, and after Ukraine he will "devour" Belarus
Tuesday, 30 May 2023, 14:04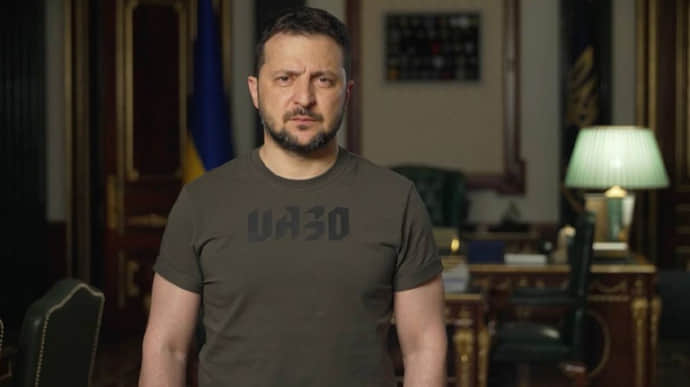 President Volodymyr Zelenskyy believes that Russian dictator Vladimir Putin dreams of reviving the Soviet Union, so he is now trying to destroy the Ukrainian identity, and then he will take over Belarus.
Source: Zelenskyy in an interview with the Korean media Chosun
Quote from Zelenskyy: "The restoration of the Soviet Union. This is his [Putin's – ed.] life goal. This cannot be achieved diplomatically, so he tried all kinds of blackmail, using energy as a weapon, etc. Mostly unsuccessfully. Then he decided to become an outright aggressor. He killed and tortured thousands of civilians, seized a nuclear power plant and threatened a nuclear catastrophe...
Advertisement:
He [Putin – ed.] has been avoiding even a telephone conversation with me for almost two years. There is only one reason. He has nothing to say. The truth is on our side, and he has nothing to say in the face of the truth.
Putin wants nothing else than to seize Ukraine by force, to destroy Ukrainian identity, and to destroy Ukrainianness through war. Putin's next target is Belarus. [Russia] is metallurgically devouring Belarus. It is obvious that today's Putin is a completely different person than the one we saw before. It would be difficult to talk to Putin before he withdraws all his troops from the territory of Ukraine."
Details: Zelenskyy noted that Ukraine wants to study Korea's experience rebuilding the country from ruins after the war and combine it with its own experience.
According to him, Ukraine and South Korea can cooperate in the field of security and defence industry, in the field of high technologies and cyberspace, as well as in post-war rehabilitation.
In addition, Ukraine is interested in cooperation in the field of green energy and green metallurgy.
The lithium battery sector is also promising, given the resources and large reserves that Ukraine possesses and the technological capabilities of Korea.
The president said that currently about a third of the territory of Ukraine is covered with mines; therefore one of the most important defence systems is demining equipment.
He added that the demining equipment provided by South Korea would save the lives and limbs of countless farmers and children.
Zelenskyy also commented on the support South Korea does or does not provide.
Quote: "I understand that there are limitations when it comes to weapons assistance. However, I doubt that this principle should be applied to defence systems (which South Korea does not yet support) and equipment to protect power systems.
Air defence systems are purely defensive equipment, not weapons. A 'sky shield' is simply necessary to restore Ukraine. I sincerely hope that South Korea will support us in this field. We also have an early warning system that warns of Russian airstrikes, and that's where we need South Korea's help."
Details: Zelenskyy also reacted to the deployment of Russian tactical nuclear weapons in Belarus: "As of now, this means nothing for Ukraine. It is not the first time that Russia has issued nuclear threats, and it has been repeated so many times that Ukraine is no longer afraid of Russian threats and actions regarding nuclear weapons."
Quote: "The supply of tactical nuclear weapons to Belarus is nothing more than a political trick to intimidate Ukraine and Europe. It is unacceptable to use nuclear weapons as a threat while violating the territorial sovereignty of another country.
The whole world agrees with this, but Russia does not stop brandishing a nuclear threat. Political blackmail is almost the only tool they have left."
Details: He added that Putin even lied to Chinese leader Xi Jinping, saying that he was "opposed to deploying nuclear weapons outside his territory", and the week after announced that he would deploy nuclear weapons in Belarus.
The President of Ukraine stated that Russia is lying, even to those countries that were somewhat close to it: "Russia's rhetoric around nuclear weapons is just politics. Failed politics, wrong politics."
Zelenskyy also believes that China does not directly support Ukraine's position on peace.
According to him, China is somewhere "outside" and is walking "on a tightrope between the West and Russia".
Quote: "It is true that China does not directly support Ukraine's position. Regarding China's own peace initiative, we have clearly stated: 'We appreciate any efforts of other countries to achieve peace, but our own peace formula, our own initiative is fundamental'. Because this war started in Ukraine and continues here. If, and only if, China makes a clear and decisive statement that 'Russian troops must be withdrawn from all territories of Ukraine', then I think it can help us."
Details: A journalist of the Korean outlet Chosun also described how he managed to get an interview with the President of Ukraine. According to him, the meeting was held in one of Zelenskyy's offices in Kyiv. The exact place was left unknown to him.
In the city centre, the journalist was met by the security of President Zelenskyy's office, taken to a black van with tinted windows and put through several inspections.
Zelenskyy met him in a T-shirt with the inscription "UA30" – the name of the Ukrainian cybersecurity agency.
The President of Ukraine answered question after question, but was silent for a while when asked about the debate on the support of Ukraine by the South Korean political establishment: "I think that ordinary people in South Korea support people in Ukraine who are trying to defend themselves because it is right. Ukraine has a clear position on South Korea. We are on the side of South Korea. We do not cling to Korea, we support Korea, we want to develop together with Korea. We ask the Korean people to do the same, to have a united position."
In the end, he said that "the Ukrainian people perceive Korea very well". According to him, Koreans have overcome many difficulties and sufferings to create a strong and courageous nation and a high-tech economy.
He addressed the people of South Korea and stated that, like Korea in the past, Ukraine is now waging a "desperate struggle for life and freedom against unjust invasion".
Journalists fight on their own frontline. Support Ukrainska Pravda or become our patron!