Ukraine's air defence destroys 35 out of 35 Russian missiles – Air Force
Tuesday, 6 June 2023, 06:16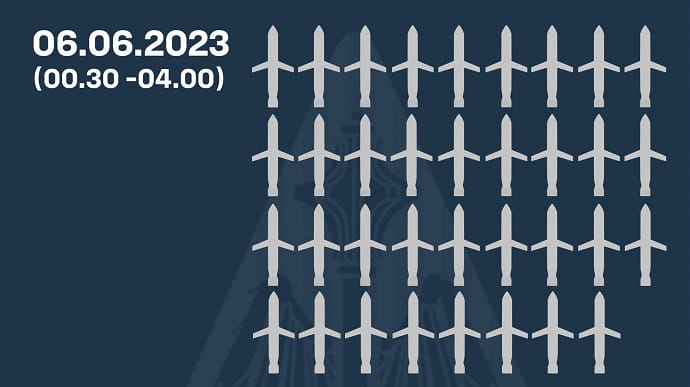 Russian forces attacked Ukraine using Kh-101/Kh-555 air-launched cruise missiles on the night of 6 June 2023, between 00:30 and 04:00, and all 35 Russian missiles were destroyed by air defence.
Source: Ukrainian Air Force
Details: The Ukrainian Air Force said that the Russians attacked as they usually do – from the Caspian Sea area, with six Tu-95ms strategic bombers.
Advertisement:
All 35 cruise missiles were destroyed by air defence assets and personnel from the Air Force of the Armed Forces of Ukraine.
Most of the Kh-101/Kh-555 were headed in the direction of the capital, in the area of responsibility of Air Command Tsentr (Centre).
Journalists fight on their own frontline. Support Ukrainska Pravda or become our patron!