Serbian President is not against supplying ammunition to Ukraine – The FT
Wednesday, 7 June 2023, 07:47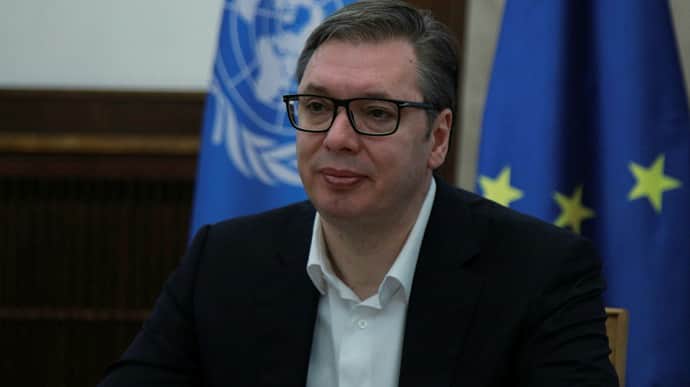 Serbian President Aleksandar Vučić has said he is not opposed to his country selling ammunition to intermediaries who send it to Ukraine - a sign that Russia's staunch Balkan ally is turning west.
Source: Vučić in an interview with the Financial Times, as reported by European Pravda
Details: Aleksandar Vučić has traditionally supported Moscow and refused to join Western sanctions against Russia following its full-scale invasion of Ukraine. However, the Serbian president has changed his stance, saying he was aware of the US government's report that Serbian ammunition was entering Ukraine through intermediaries and that he had no intention of preventing it.
Advertisement:
Quote: "Is it possible that this is happening? I have no doubts that it might happen. What is the alternative for us? Not to produce it [ammunition – ed.]? Not to sell it?" Vučić said.
According to three Western diplomats in the region, the channel through which Serbian ammunition is delivered to the Ukrainian front has been a decisive factor in the marked change since the US, NATO and the EU supported Serbia during the recent tensions in Kosovo.
Answering the question if this was a deliberate move aimed at gaining the approval of Western capitals, Vučić said Serbia was trying to act "neutrally".
"But I'm not a fool. I am aware that some of the arms might end up in Ukraine," he said.
Vučić acknowledged that he was walking a fine line between Moscow and Western powers, but said he would not help Russia's military efforts. "We joined all the UN resolutions," he said, referring to UN statements condemning Russia's full-scale invasion of Ukraine.
"We join re-export bans, such as dual-use [technology] in drones . . . We won't be a hub for re-exporting anything to Russia," the Serbian president noted.
He added that the days when he spoke every three months with Russian President Vladimir Putin are over, noting that he has not been in contact with the Kremlin for a year, except for receiving visitors from Moscow. "This has never happened before," he said.
Background:
Earlier it was reported that Vučić had a conversation with Ukrainian President Volodymyr Zelenskyy on the sidelines of the European Political Community Summit in Moldova.
Vučić also said that the conversation with Zelenskyy did not affect Serbia's position on the introduction of sanctions against the Russian Federation.
Journalists fight on their own frontline. Support Ukrainska Pravda or become our patron!