Russians launch 22 air strikes, Defence Forces continue conducting offensive on 2 fronts – General Staff report
Monday, 10 July 2023, 18:46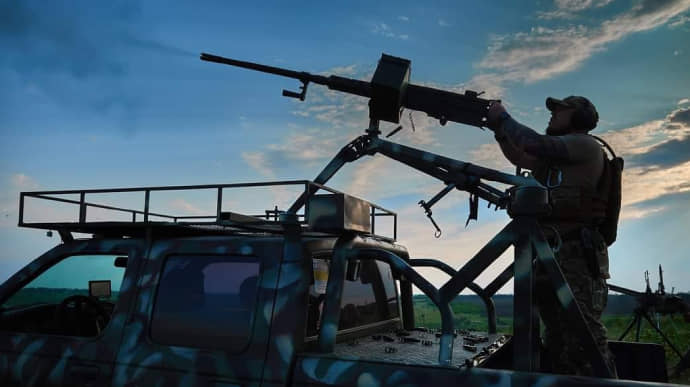 During the day of 10 July the Russians launched 22 air strikes. There were 17 combat encounters on the front.
Source: evening report of the General Staff of Ukraine
Details: The Russians have launched 22 air strikes and about 30 attacks using multiple-launch rocket systems. Unfortunately, civic infrastructure has been destroyed, and civilians have been injured.
Advertisement:
The Russians are concentrating their main efforts on the Kupiansk, Lyman, Bakhmut, Avdiivka and Marinka fronts, heavy fighting is ongoing. During the day 17 combat encounters have occurred.
There have been no significant changes in the operative situation on the Volyn and Polissia fronts.
On the Bakhmut front, under dense air and artillery attacks by the Russians, the Ukrainian defence forces have successfully repelled the attacks near the settlement of Hryhorivka in Donetsk Oblast.
On the Avdiivka front, the Defence Forces continue to deter the offensive of the Russian forces near the settlement of Sieverne in Donetsk Oblast. The Russians have launched an aircraft attack near the settlement of Avdiivka.
On the Marinka front, under the Russian artillery attacks, the Defence Forces have repelled all Russian attacks near the settlements of Marinka and Krasnohorivka.
On the Shakhtarsk front, the Russians have been conducting unsuccessful offensive actions near the settlement of Novomykhailivka in Donetsk Oblast.
On the Zaporizhzhia and Kherson fronts the Russians are concentrating their main efforts on preventing further advances of the Ukrainian forces.
Meanwhile, the Defence Forces of Ukraine continue to conduct an offensive operation on the Melitopol and Berdiansk fronts, gain foothold on the achieved borders, launch artillery attacks on detected targets of the Russians, and conduct counter-battery measures.
The aircraft of the Defence Forces has launched four attacks on an area of concentration of manpower, armament and military equipment of the Russians. The Ukrainian troops have also destroyed three reconnaissance UAVs of the operative-tactical level.
The units of Rocket Forces and Artillery have struck a control point, three areas of concentration of manpower, armament and military equipment of the Russians, an ammunition storage point, seven artillery systems on firing positions and one air defence system of the occupiers during the day.
Journalists fight on their own frontline. Support Ukrainska Pravda or become our patron!