Defence forces advance on Bakhmut's flanks, some units operate in the city
Sunday, 2 July 2023, 16:47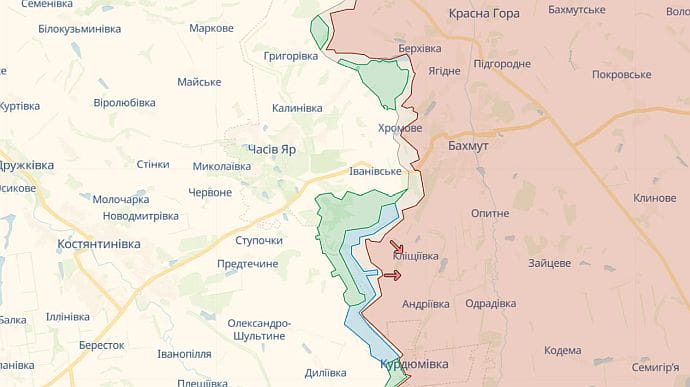 Defence forces are advancing on the southern and northern flanks around Bakhmut, and Ukrainian sniper groups and "some other units" are operating in the city itself.
Source: Serhii Cherevatyi, spokesperson for the East Grouping of Forces of the Armed Forces of Ukraine, during the national joint 24/7 newscast
Quote: "There are no inside city intensive battles there [in Bakhmut – ed.], our sniper groups and some other units operate there, about which we can say something later. The massive onslaught continues on the southern and northern flanks around the city.
Advertisement:
We're advancing there. When we verify it, we will confirm it – we will tell you the details."
Details: According to Cherevatyi, the defence forces seized the initiative on the Bakhmut front.
"If the enemy attacked us for 10 months, now we are pressuring the enemy, but we are pressuring with completely opposite tactics – we are using all the achievements of domestic and world military science, unmanned aerial vehicles, reconnaissance, high-precision systems to destroy the enemy, to break through passages in minefields. And step by step, without emergency actions that can lead to heavy losses, we are advancing. And in principle, we are fulfilling the set tasks of assault on the enemy," he said.
The spokesman also said that last week on the Bakhmut front, the Ukrainian military were taking prisoners almost daily.
"The previous week was full of captures, in fact, prisoners were taken. This day is unremarkable – only 1 prisoner, but there were also 8-10 prisoners per day. These are different types of units, both of the enemy's regular army and veterans of the [Wagner] private company that included people with a criminal past," Cherevatyi said.
According to him, the convicts are mainly people who are not highly educated and of a low social status.
"We did not see highly motivated or highly trained specialists among them," the spokesman added.
Journalists fight on their own frontline. Support Ukrainska Pravda or become our patron!