Ukraine's State Bureau of Investigation detains former Odesa military draft officer on the run
Monday, 24 July 2023, 11:00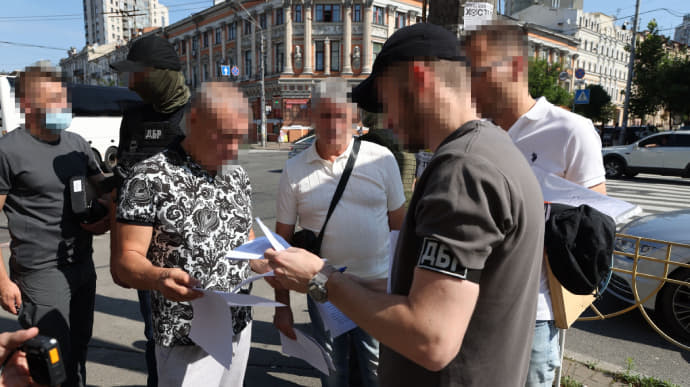 The State Bureau of Investigation (SBI) and the Prosecutor General's Office (PGO) have detained Yevhen Borysov, former Chief of the Odesa Oblast Territorial Centre for Recruitment and Social Support.
Source: Press service of the SBI
Details: Borysov was served with a notice of suspicion on Saturday, 22 July, for unlawful enrichment worth hundreds of millions of Ukrainian hryvnias and intentional evasion from service.
Advertisement:
The former official tried to flee from the investigators, resorting to elements of disguise, i.e. changing his phone numbers, car number plates, and whereabouts.
Active searches lasted for two days, and eventually he was identified and detained in Kyiv through extensive operational and investigative measures, the SBI said.
Given the former military enlistment officer's attempts to hide from justice, SBI officers will request that the court remand him in custody without the possibility of bail.
Borysov is suspected of:
acquisition of assets by a person authorised to perform state functions, the value of which is greater than the 6,500 tax-free minimum incomes of citizens, exceeding their legal income;
failure to report for service on time without valid reasons by a serviceman committed under martial law, which is a criminal offence;
evasion of military service duties by a serviceman using deception committed under martial law.
The sanctions of the articles provide for imprisonment for up to 10 years.
The investigation is ongoing.
Background: A journalistic investigation by Ukrainska Pravda revealed that the military enlistment officer's mother became the owner of a residential building in Spain worth over €4 million last year. In addition to luxury foreign real estate, she also purchased a Mercedes-Benz EQV worth almost UAH 3 million [roughly US$81,000] in 2023.
Borysov's mother-in-law has become the owner of an expensive fleet of vehicles in recent years, having no sufficient legitimate funds to do so. This includes a Toyota Land Cruiser Prado, a Mercedes-Benz G 63 AMG, and a Toyota Land Cruiser.
The former official's wife also purchased another foreign property – office space in Spain worth EUR 737,000, without having sufficient legally obtained assets or income.
Journalists fight on their own frontline. Support Ukrainska Pravda or become our patron!