Ukrainian fencer disqualified from World Cup for refusing to shake hands with Russian opponent
Thursday, 27 July 2023, 14:44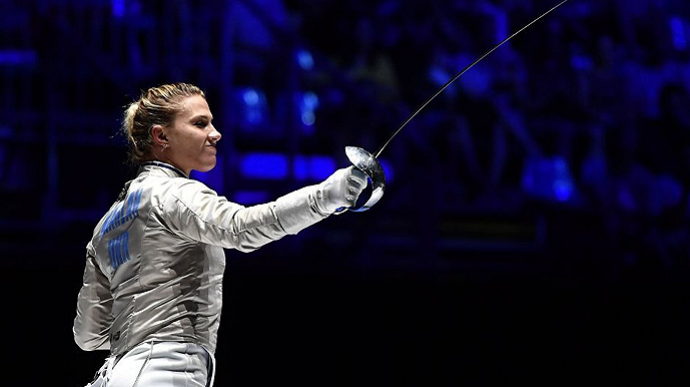 Ukrainian fencer Olha Kharlan has been disqualified from the World Fencing Championships in Milan.
Source: Tribuna with reference to Eurosport journalist Marco Arcari; Suspilne [Ukraine's national broadcaster]
Details: Kharlan defeated Russia's Anna Smirnova 15:7 at the start of the tournament. After the match, she refused to shake Smirnova's hand, offering to bump sabres. Not getting a response, Kharlan left the track.
Advertisement:
Smirnova lodged a protest against Kharlan for not showing "respect" and stayed on the track for more than 50 minutes after the match. According to the rules of the International Fencing Federation, not showing respect is punished by a black card – disqualification from the tournament.
Despite this, Kharlan advanced to the next round in the live scoreboard, Suspilne reports. She was supposed to meet the Bulgarian Yoana Ilieva in the next stage of the tournament. However, the match did not take place. It was noted in the live scoreboard that Ilieva is going to the next round.
Thus, Kharlan was still disqualified for refusing to greet the Russian. Suspilne emphasises that the Ukrainian team tried to appeal the decision, but was unsuccessful.
For reference: Kharlan took part in the world championships the day after the Ministry of Youth and Sports of Ukraine ended the boycott of international competitions where athletes from Russia or Belarus compete in a neutral status.
More details: Vadym Guttseit, Minister of Youth and Sports of Ukraine, commented on the incident: "I am proud of you! Your participation is an example of strength, willpower and love for Ukraine! Hang on! The main victory of your country and yours will happen very soon!"
The Ukrainian Shakhtar football club has also expressed its support for Olha Kharlan: "We support your gesture! We are with you, Olha Kharlan! Shame on you, International Fencing Federation."
Updated: Mykhailo Podoliak, Deputy Head of the Office of the President of Ukraine, tweeted a photo of Anna Smirnova, Kharlan's opponent, in a Russian military winter hat. A young man dressed in a military uniform and a hat with the colours of the Russian flag and an image of a two-headed eagle is standing next to her. Podoliak did not specify how old this photo was.
Quote from Podoliak: "The photo shows Anna Smirnova, the Russian fencer with whom Ukrainian Olha Kharlan refused to shake hands at the fencing World Cup after winning in fair combat.
As we see, Smirnova openly admires the Russian army, which kills Ukrainians and destroys our cities.
The International Fencing Federation has disqualified the representative of Ukraine for her refusal to shake hands with a Russian. Should this be considered an official position of the International Fencing Federation? Does Russian money smell like blood?"
Íà ôîòî Àííà Ñìèðíîâà – òà ñàìà ðîñ³éñüêà ôåõòóâàëüíèöÿ, ÿê³é óêðà¿íêà Îëüãà #Õàðëàí â³äìîâèëàñÿ ïîòèñíóòè ðóêó íà ÷åìï³îíàò³ ñâ³òó ï³ñëÿ çäîáóòòÿ ïåðåìîãè â ÷åñíîìó äâîáî¿. ßê áà÷èìî, âîíà â³äêðèòî çàõîïëþºòüñÿ ðîñ³éñüêîþ àð쳺þ, ùî âáèâຠóêðà¿íö³â ³ çíèùóº íàø³ ì³ñòà.… pic.twitter.com/Waro6ownYZ

— Ìèõàéëî Ïîäîëÿê (@Podolyak_M) July 27, 2023
Ukrainska Pravda is the place where you will find the most up-to-date information about everything related to the war in Ukraine. Follow us on Twitter, support us, or become our patron!