Zelenskyy calls on Biden to invite Ukraine to join NATO
Tuesday, 4 July 2023, 03:30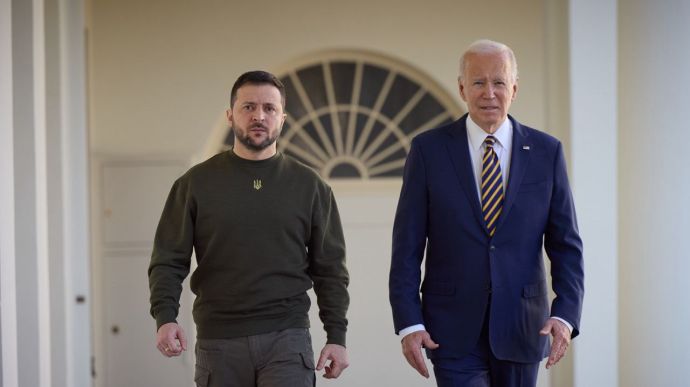 President Volodymyr Zelenskyy has called on US President Joe Biden to invite Ukraine to join NATO now, even if Ukraine becomes a member of the Alliance after the end of the war.
Source: Zelenskyy in an interview with CNN, the full version of which will be published on 5 July at 19:00 (Kyiv time)
Details: Speaking in English with CNN, Zelenskyy said that Biden is "the decision maker" in the issue of whether Ukraine will be in NATO or not.
Advertisement:
"He [US president – ed.] supports our future in NATO," but an invitation now would provide great motivation for Ukrainian soldiers, Zelenskyy said.
Answering the question of why he should not wait for an invitation, Zelenskyy said that it is "very important" that Ukraine receives the invitation "now".
"It's so important to feel that you are really being around allies in the future," the Ukrainian president emphasised.
Zelenskyy added that he acknowledges Ukraine would "never be in NATO before war finishes".
"We understand everything. But this signal is really very important. And depends on Biden's decision," the president said.
For reference. The NATO summit will take place in Vilnius on 11-12 July. Ukraine has formulated two specific expectations from the Alliance summit in Vilnius: membership and security guarantees.
Background: Dmytro Kuleba, Minister of Foreign Affairs, said that Ukraine is continuing to prepare intensively for the Vilnius NATO summit in order to obtain solutions that satisfy it.
Journalists fight on their own frontline. Support Ukrainska Pravda or become our patron!