Russians explain Crimean Bridge being covered in smoke as caused by air defence
Saturday, 12 August 2023, 13:25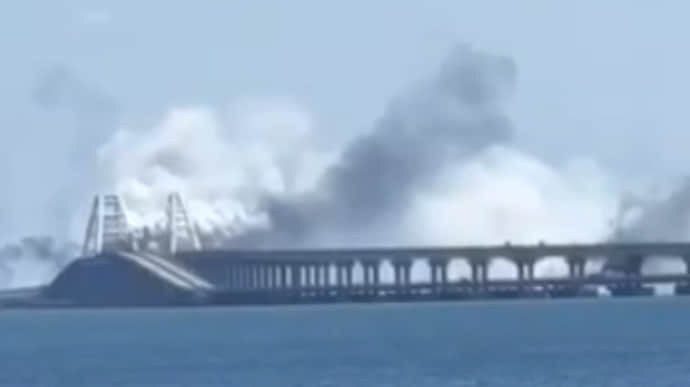 Russians report an "attempt of Ukrainian Armed Forces to attack the Crimean Bridge". They have posted images of smoke rising over the bridge on the internet.
Source: Sergey Aksyonov, the Kremlin-appointed puppet leader of Crimea; Mash Telegram channel; Meduza, a Latvian-based Russian media outlet; social media
Details: Kremlin propagandists report that "the Ukrainian Armed Forces tried to attack the Crimean Bridge" and explosions were heard, allegedly the work of air defence.
Traffic on the bridge has been stopped in both directions.
Meanwhile, local channels post videos of smoke near the Crimean Bridge. Whether the bridge has been damaged is unknown.
Aksyonov later reported that the Russian air defence downed two missiles, and that the bridge "was not damaged".
Updated: The Russian Defence Ministry stated that the Armed Forces of Ukraine allegedly attacked the bridge with S-200 missiles which were downed, and that the smoke is supposedly a Russian "smoke screen".
Ukrainska Pravda is the place where you will find the most up-to-date information about everything related to the war in Ukraine. Follow us on Twitter, support us, or become our patron!