Ukraine's air defence downs 13 Kinzhals and over 20 other ballistic missiles – Air Force
Saturday, 12 August 2023, 18:23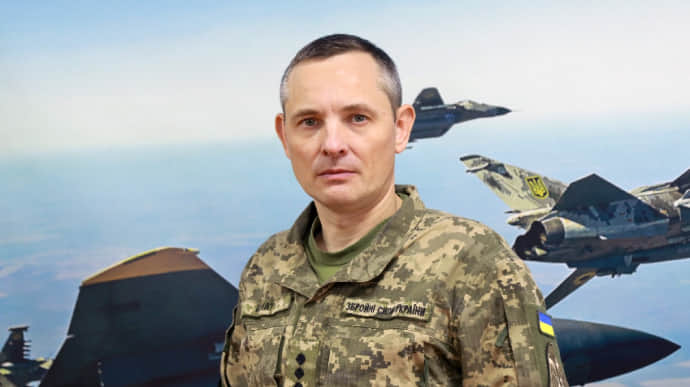 Ukrainian air defence shot down a total of 13 Kinzhal aeroballistic missiles, as well as more than 20 Iskanders and S-400s.
Source: Yurii Ihnat, spokesman for Ukraine's Air Force, in an interview with Ukrainske Radio (Ukrainian national radio broadcaster).
Details: Ihnat says that the Russians produce about 100 missiles of various types every month, including the Kh-47 Kinzhals. However, Russia has a relatively small supply of these missiles.
Quote: "Regarding yesterday's (11 August – ed.) attack by the Russians, these were Kh-47 Kinzhal aeroballistic missiles, one of which was shot down in the Kyiv Oblast. These missiles can hit air defence equipment capable of working against ballistic missiles. There isn't much equipment [of such kind] in Ukraine, but there is still a result.
The air defence system of Ukraine has destroyed more than one Kinzhal. Six missiles [were downed] on 16 May, and six more – on 16 June, and now we have one more. That is, the air defence of Ukraine shot down 13 Kinzhal missiles. Add more than 20 downed ballistic missiles, including Iskanders and S-400s. Considering that a Kinzhal moves in the sky at a huge speed, more than seven thousand kilometres per hour, there is little time for its downing."
Details: Ihnat said the Russians' attack on 11 August confirms that Russian forces have information about infrastructure and military targets, and they are using it.
"The Ukrainian military leadership also understands this, and all the necessary measures are being taken to preserve the equipment and personnel and to ensure that the civilian population suffers as little as possible," Ihnat emphasised.
Background:
Ukrainska Pravda is the place where you will find the most up-to-date information about everything related to the war in Ukraine. Follow us on Twitter, support us, or become our patron!