Prigozhin still has value for Putin, but supports a competing centre of gravity – CNN
Sunday, 13 August 2023, 17:55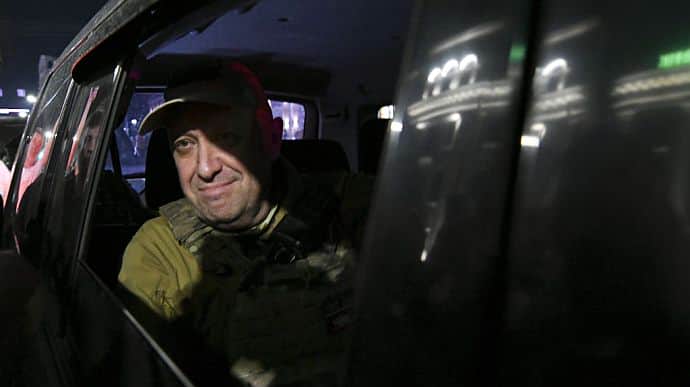 Wagner Group leader Yevgeny Prigozhin still has value to Russian President Vladimir Putin, but Prigozhin himself has plans for Wagner activities in Africa, a position on which his position contrasts with that of the Kremlin.
Source: CNN referring to expert sources and its own analysis
Details: CNN recalls that just a few weeks after the failed rebellion, Prigozhin appeared on the sidelines of the recent Russia-Africa summit in Saint Petersburg, where he shook hands with a high-ranking official from the Central African Republic.
According to the media outlet, Prigozhin's freedom contrasts with the imprisonment of opposition leaders Vladimir Kara-Murza and Alexei Navalny on lesser charges than attempted coup.
Experts believe that the Wagner Group leader is still valuable to Putin, the media outlet writes.
Candace Rondeaux, director of Future Frontlines, an open-source intelligence service at the New America think tank, said that "Prigozhin's stock with the Kremlin has clearly taken a hit, but since Putin lost even more stock after the mutiny it seems he believes some utility remains in keeping Prigozhin around."
According to Rondeaux, Prigozhin's business acumen and ability to hide commercial profits through an opaque network of shell companies and offshore transactions is an asset to Putin's Russia, which has been hit by widespread Western economic sanctions.
"At this point, Prigozhin's networks of shell companies are the best insurance Putin has to keep Russia's war economy," she said.
"But it's not likely to stay that way forever – eventually something has got to give. And there is a good chance once it does we'll see more spectacular events closer to the border between Poland and Belarus," the expert added.
CNN also notes that Prigozhin has plans for the African area, where Wagner Group has already conducted a number of operations.
Speaking after the Wagner militants moved to Belarus, Prigozhin suggested that he would continue to focus on Africa.
"To ensure that there are no secrets and behind-the-scenes conversations, I am informing you that the Wagner Group continues its activities in Africa, as well as at the training centers in Belarus," Prigozhin said.
Prigozhin's forces are already involved in activities in Sudan, where Wagner supplies rebels fighting against the Sudanese army, and are also active in the Central African Republic and Libya.
It may also be active in Niger, following the recent military coup. In a recent Telegram message, Prigozhin hinted that Wagner might be ready to offer its services there.
"What happened in Niger has been brewing for years. The former colonisers are trying to keep the people of African countries in check. In order to keep them in check, the former colonisers are filling these countries with terrorists and various bandit formations. Thus creating a colossal security crisis," the Wager Group leader said.
"The population suffers. And this is the (the reason for the) love for PMC Wagner, this is the high efficiency of PMC Wagner. Because a thousand soldiers of PMC Wagner are able to establish order and destroy terrorists, preventing them from harming the peaceful population of states," Prigozhin said.
CNN notes that Prigozhin's position was at odds with that of the Russian Foreign Ministry, which called for the "speedy release" of Niger's President Mohamed Bazoum by the military.
"By defying Putin and evading punishment, Prigozhin seems to have built and sustained a competing center of gravity to the Kremlin," the newspaper writes.
In her recent analysis, Tatiana Stanovaya, a senior fellow at the Carnegie Russia Eurasia Centre, noted that Prigozhin has effectively destroyed the "power vertical" – Putin's long standing top-down system of rule.
"Putin's much-hyped 'power vertical' has disappeared. Instead of a strong hand, there are dozens of mini-Prigozhins, and while they may be more predictable than the Wagner leader, they are no less dangerous. All of them know full well that a post-Putin Russia is already here – even as Putin remains in charge – and that it's time to take up arms and prepare for a battle for power," CNN quoted Stanovaya as saying.
Background: The Wagner Private Military Company (PMC) is trying to save money on salaries for its mercenaries because of financial pressure, UK Defence Intelligence reports. "If the Russian state no longer pays Wagner, the second most plausible paymasters are the Belarusian authorities," the intelligence review suggests.
Ukrainska Pravda is the place where you will find the most up-to-date information about everything related to the war in Ukraine. Follow us on Twitter, support us, or become our patron!