Zelenskyy: Ukraine to receive 42 F-16 fighter jets
Sunday, 20 August 2023, 17:27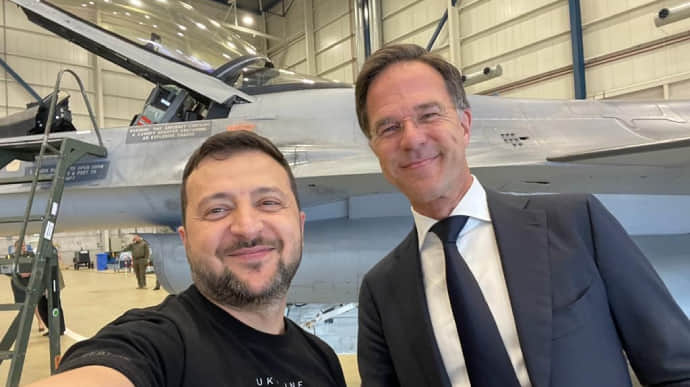 President Volodymyr Zelenskyy, who is currently on a visit in the Netherlands, has announced that 42 F-16 fighter jets "will be in Ukrainian skies".
Source: Zelenskyy on social media, Zelenskyy and Mark Rutte during a joint press conference
Quote from Zelenskyy: "The F-16s. A breakthrough agreement. Starting today, we have more specific [information].
They (F-16 fighter jets) will be in the Ukrainian skies. Thank you, Netherlands! Thank you, Mark [Rutte, Dutch Prime Minister]!"
Details: Zelenskyy posted a selfie with Dutch Prime Minister Mark Rutte in front of an F-16.
Later, Zelenskyy added that Ukraine would receive 42 F-16 fighter jets.
Earlier, a video of Zelenskyy walking around a military base in the Netherlands and looking at fighter jets emerged online.
Updated: During a joint press conference, Mark Rutte, Prime Minister of the Netherlands, said that the Netherlands has 42 F-16 fighter jets and it is still too early to talk about how many of them will be transferred to Ukraine.
Rutte explained that first Ukrainian pilots have to complete training in Denmark and Romania. The pilots are currently learning English [in order to be able to operate the aircraft and complete further training]. Military training is yet to begin and will take place in Romania.
The Dutch Prime Minister also stressed the importance of Ukraine having the infrastructure necessary to service the F-16s.
Zelenskyy said that he did not want to talk about the number of F-16s, but Rutte mentioned that the current negotiations concern 42 aircraft.
Background: For its protection, Ukraine needs to replace obsolete Soviet-era aircraft of various types with a single type of multi-role fighter jet. The F-16 may become such a fighter jet in the number of 200 pieces, said Yurii Ihnat, Ukraine's Air Force spokesman.
Ukrainska Pravda is the place where you will find the most up-to-date information about everything related to the war in Ukraine. Follow us on Twitter, support us, or become our patron!