Commander-in-Chief of Ukrainian Armed Forces tells US officials Ukraine is on the cusp of breakthrough
Thursday, 24 August 2023, 23:02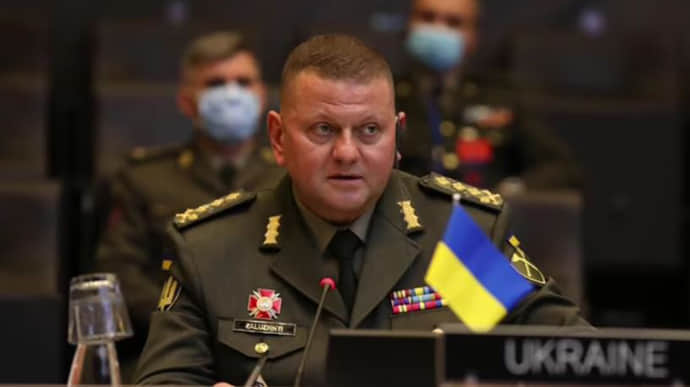 Commander-in-Chief of the Armed Forces of Ukraine, Valerii Zaluzhnyi, has told US officials that Ukrainian forces are on the cusp of a breakthrough in the counteroffensive.
Source: The Wall Street Journal
Quote from the WSJ: "It isn't too late for Ukraine to make gains, according to U.S. officials. Ukrainian commanders also say that time hasn't yet run out on their counteroffensive, and Zaluzhny [sic] has told U.S. officials his forces are on the cusp of a breakthrough."
Details: The WSJ reported that Ukrainian and US officials have been engaged in an "intense behind-the-scenes debate for weeks over the strategy and tactics for reviving Kyiv's slow-moving counteroffensive".
US military officials have been urging their Ukrainian counterparts to concentrate their forces to try to break through Russian defences and push to the Sea of Azov.
According to the WSJ, "Kyiv has made some adjustments in recent weeks, but the two sides are still at odds about how to turn the tables on the Russians in the limited time they have before winter sets in."
The advice offered by US officials is based on the assumption that the more than $43 billion in weapons the US has provided to Ukraine is sufficient for this offensive but is unlikely to be renewed at the same level next year.
"We built up this mountain of steel for the counteroffensive. We can't do that again. [This opportunity] doesn't exist," one former US official said.
Meanwhile, Zaluzhnyi stressed that this war was not a "counterinsurgency". This is Kursk," he said, referring to the major World War II battle between Germany and the Soviet Union.
After US officials warned Ukrainian military commanders against scattering their efforts, the Ukrainians adjusted their strategy and shifted to defending the eastern part of Zaporizhzhia Oblast. This shift allowed them to preserve their forces for a major offensive elsewhere and to limit the use of artillery.
But US officials say Ukrainian forces are still too dispersed for a concentrated offensive to the south, with numerous brigades deployed in the east; they also think the Ukrainians are still not combining the use of artillery, mechanised units, and mine-clearing efforts effectively.
Ukrainska Pravda is the place where you will find the most up-to-date information about everything related to the war in Ukraine. Follow us on Twitter, support us, or become our patron!