German Foreign Minister calls on Putin to free Ukrainian children: It would be the first step towards peace
Monday, 11 September 2023, 22:09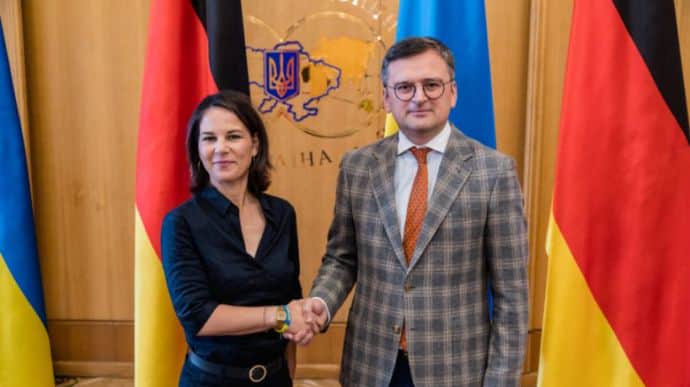 Annalena Baerbock, Federal Foreign Minister for Germany, has condemned Russia's abduction of Ukrainian children while on her visit to Kyiv.
Source: Baerbock at a joint briefing with Ukrainian Foreign Minister Dmytro Kuleba, European Pravda reports
Details: Baerbock said she is still touched by conversations with children in the centre for children brought back from the Russian Federation. The diplomat admitted that she was simply aghast that the children had been taken to a foreign country and brainwashed to be set against their homeland just like that.
Advertisement:
Baerbock added that the fate of these children once again shows that Russian President Vladimir Putin does not have a moral compass, and he violates the rules of the international community and human coexistence on a daily basis.
"So I urge those who still cannot clearly say who the perpetrator is: 'Look at these crimes and these children! Bringing them back is the first step towards peace.' This must be done immediately," Baerbock emphasised.
Earlier, it was reported that the US Department of State called on the Russian Federation to cease the deportation of Ukrainian children from the occupied territories and to return the ones they already deported.
In March, Pre-Trial Chamber II of the International Criminal Court issued arrest warrants for Russian President Vladimir Putin, suspecting him of illegal deportation of thousands of children from Ukraine. Issuing such warrants means that Putin can be arrested if he goes to any member state of the International Criminal Court.
In July, Ukraine's Prosecutor General confirmed that the US plans to send evidence of Russian war crimes to The Hague. He said this decision represents a "historic step" towards establishing comprehensive accountability for Russia's international crimes.
Ukrainska Pravda is the place where you will find the most up-to-date information about everything related to the war in Ukraine. Follow us on Twitter, support us, or become our patron!