Russian Shaheds crash and explode in Romania
Monday, 4 September 2023, 11:02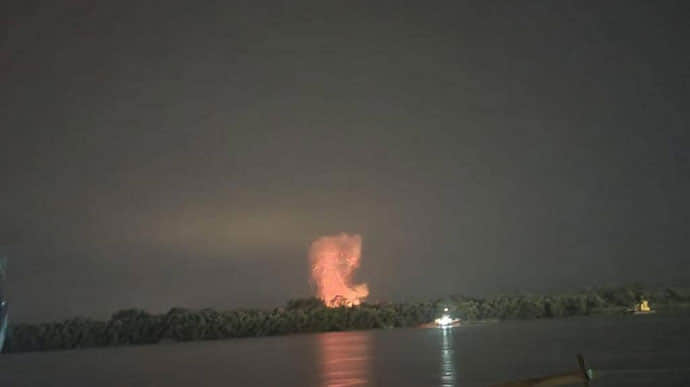 Oleh Nikolenko, spokesperson for the Ministry of Foreign Affairs of Ukraine, has said that Shahed kamikaze drones that Russia launched to attack the port of Izmail in Odesa Oblast crashed and exploded in Romania.
Source: Nikolenko on Facebook
Quote: "As the State Border Guard Service of Ukraine reported, tonight [4 September – ed.] during a large-scale Russian attack at the port of Izmail, Russian Shahed drones fell and detonated in Romania."
Advertisement:
Details: Nikolenko posted a photo of the explosion and stressed that this is yet another confirmation that Russian missile terror poses a huge threat not only to the security of Ukraine but also to the security of neighbouring countries, including NATO member states.
He called on the Allies to speed up the provision of additional modern missile and air defence systems, as well as combat aircraft, to Ukraine, which will enhance the protection of the infrastructure of Ukraine and neighbouring countries.
Background:
Earlier, it was reported that at night, Russians launched Shahed attack drones at Odesa Oblast, 17 of which were shot down by air defence forces, but there were strikes.
The Russians also attacked Dnipropetrovsk and Mykolaiv oblasts with drones. The Air Force destroyed seven Russian drones, but there were also strikes in Dnipropetrovsk Oblast.
The Air Force later reported that the Russians had attacked Ukraine with 32 Shahed kamikaze drones, 23 of which were destroyed.
Ukrainska Pravda is the place where you will find the most up-to-date information about everything related to the war in Ukraine. Follow us on Twitter, support us, or become our patron!