Downed Shahed drone wreckage falls in Khmelnytskyi Oblast, injuring 16 people and causing destruction
Wednesday, 25 October 2023, 08:00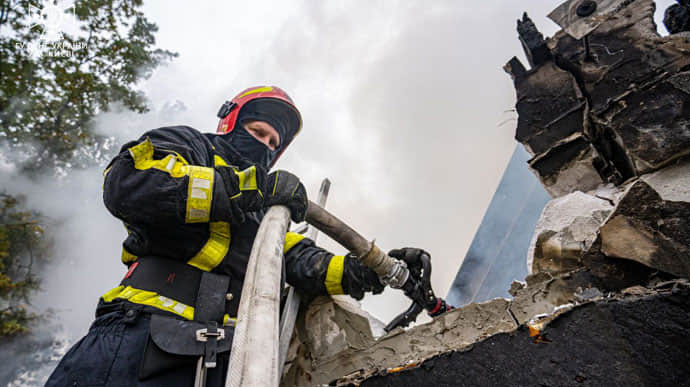 A total of 16 people have been injured when the wreckage of a downed Russian Shahed drone fell on the premises of a critical infrastructure facility in Shepetivka district, Khmelnytskyi Oblast.
Source: Khmelnytskyi Oblast Military Administration with reference to Serhii Tiurin, First Deputy Head of Khmelnytskyi Oblast Military Administration, on Telegram; Vasyl Sydor, Mayor of Slavuta, on Facebook
Quote from Tiurin: "[The debris] fell on the premises of a critical infrastructure facility as a result of the downing of enemy aerial targets in Shepetivka District.
Advertisement:
The blast wave damaged non-residential and residential buildings and vehicles."
Details: Tiurin added that 16 residents from nearby houses with injuries of varying degrees of severity were sent to hospital.
All relevant services are at the scene.
Vasyl Sydor, Mayor of the city of Slavuta, said, "there is a lot of damage in Slavuta hromada". [A hromada is an administrative unit designating a town, village or several villages and their adjacent territories – ed.]
Sydor gave assurances that all services, namely heat, gas and water, will be provided to the hromada's residents. But schools and kindergartens will be closed on 25 October.
Tiurin reported that debris also fell in Khmelnytskyi District, but the downed Russian targets did not cause any damage.
Tiurin added that the Russian occupiers have attacked Khmelnytskyi Oblast for the fourth day in a row.
Background: Russian forces launched 11 Shahed kamikaze drones over Ukraine on the night of 24-25 October and the air defence forces managed to down all the Russian targets.
Support UP or become our patron!