Ukrainian troops advance beyond railway line near Bakhmut – ISW
Monday, 30 October 2023, 03:58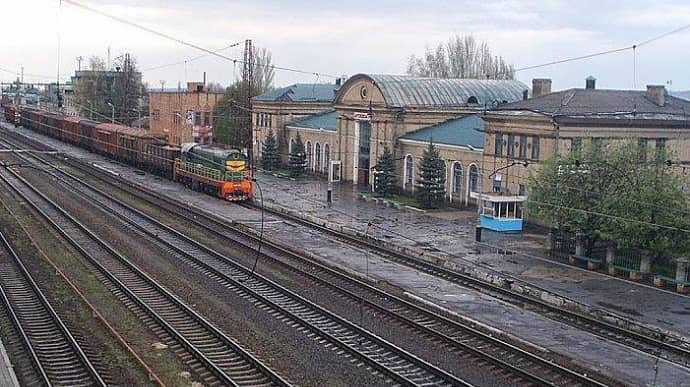 Ukrainian troops advanced beyond the railway line near Bakhmut on 29 October.
Source: Institute for the Study of War (ISW)
Details: Geolocation footage released on 29 October provides evidence of Ukrainian forces making progress beyond the railway line south of Andriivka (10 kilometres southwest of Bakhmut).
Advertisement: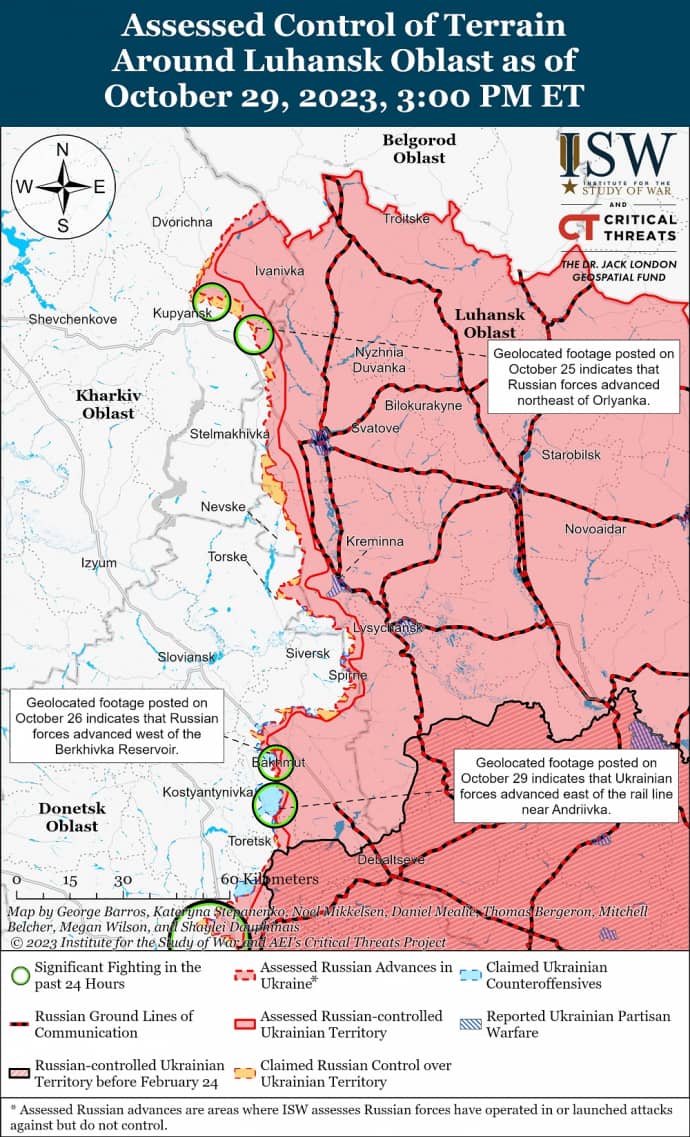 In addition, the Ukrainian military advanced in the west of Zaporizhzhia Oblast.
Ukraine's General Staff reported that the troops continued their assault south of Bakhmut and offensive actions on the Melitopol front (west of Zaporizhzhia Oblast).
A famous Russian military blogger stated that Ukrainian forces established control over certain positions on the Zaporizhzhia front (western part of Zaporizhzhia Oblast) the previous week.
A Kremlin-affiliated Russian milblogger claimed that Russian forces had tried to regain their lost positions near Klishchiivka and Andriivka last week and they pushed back Ukrainian forces from positions near the Berkhove Reservoir (about 2 kilometres northwest of Bakhmut).
Another Kremlin-affiliated Russian milblogger said positional battles south of Bakhmut had taken place.
To quote the ISW's Key Takeaways on 29 October:
Ongoing antisemitic demonstrations in the Republic of Dagestan and elsewhere in the North Caucasus are highlighting heightened interethnic and interreligious tensions in Russia.
The Kremlin has yet to respond and appears to have left regional authorities to make an official response to the demonstrations.
The Kremlin will likely struggle to reassure constituencies that the situation is under control and convince Jewish audiences that Jewish minorities are safe in Russia despite its efforts to present Russia as a religiously tolerant country..
Russian ultranationalists expressed concerns that antisemitic demonstrations will spread from Dagestan and the North Caucasus elsewhere in Russia.
Russian Federal Security Service (FSB) Head Alexander Bortnikov and Russian Investigative Committee Head Alexander Bastrykin may be attempting to capitalise on heightened ethnoreligious tensions in Russia to regain favour with Russian President Vladimir Putin.
Russian milbloggers claimed on 29 October that Airborne Forces (VDV) Commander Colonel General Mikhail Teplinsky replaced Colonel General Oleg Makarevich as the commander of the Russian "Dnepr" Grouping of Forces operating in the Kherson direction.
Ukrainian forces advanced near Bakhmut amid continued offensive operations near Bakhmut and in western Zaporizhia Oblast on 29 October.
The New York Times (NYT) reported that US officials will send Ukraine hybrid air defence systems in autumn 2023.
The Russian information space continues to debate the future of the Wagner Group's remaining personnel.
Russian forces continued offensive operations along the Kupiansk-Svatove line, near Bakhmut, near Avdivvka, west and southwest of Donetsk City, in the Donetsk-Zaporizhzhia Oblast border area, and in western Zaporizhzhia Oblast and advanced west of Donetsk City.
Russian milbloggers claimed that Russian forces have begun deploying a new electronic warfare (EW) data station system in Ukraine.
Russian military personnel continue to commit violent crimes in occupied Ukraine.
Support UP or become our patron!