Russian troops have confirmed successes near Avdiivka − ISW
Tuesday, 14 November 2023, 03:56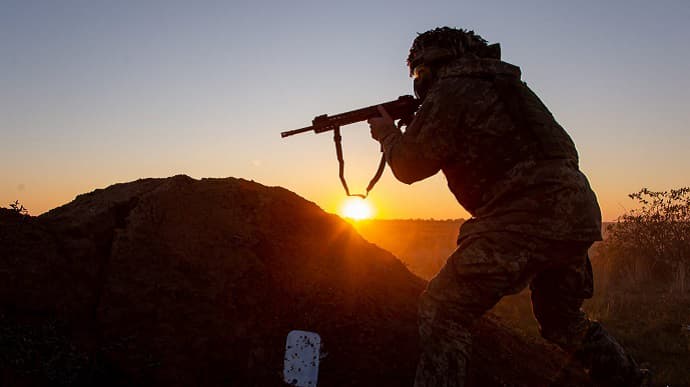 Russian troops continued their offensive near Avdiivka on 13 November and confirmed their successes. Geolocation footage released on 10 November also shows that Russian troops have advanced to the eastern outskirts of Stepove (3 km north of Avdiivka).
Source: Institute for the Study of War (ISW)
Details: The General Staff of Ukraine reported that Russian troops launched unsuccessful attacks southeast and south of Novokalynove (11 km northwest of Avdiivka), east of Pervomaiske (11 km southwest of Avdiivka) and Novobakhmutivka (13 km northeast of Avdiivka), as well as near Avdiivka and Sieverne (6 km west of Avdiivka).
Advertisement: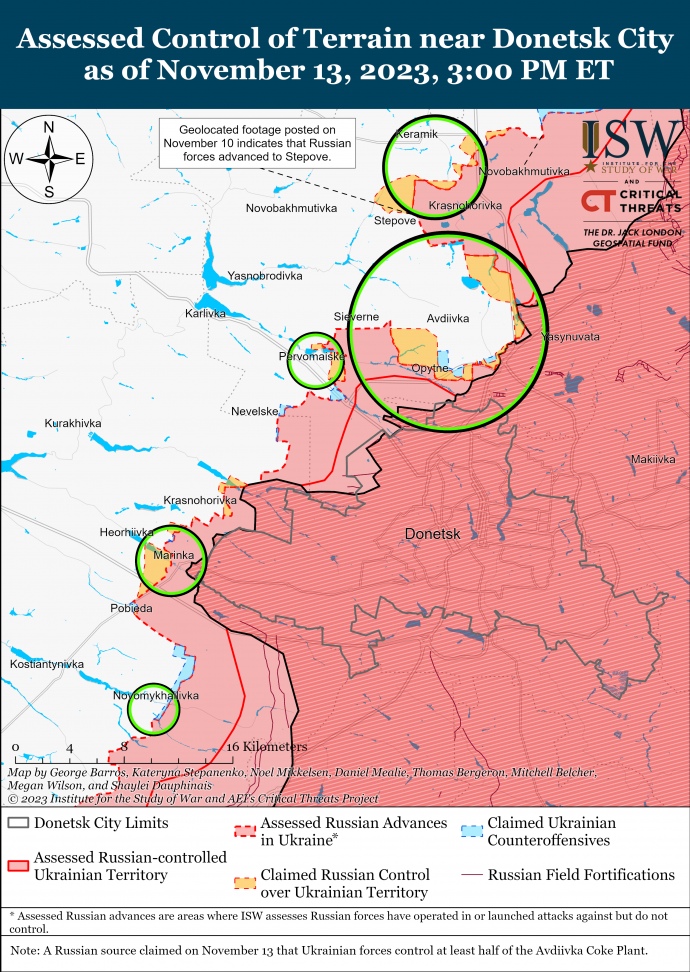 Several Russian military bloggers claimed that fighting was ongoing near the Avdiivka Coke Plant and north of Avdiivka.
Another Russian military blogger claimed that Ukrainian forces control at least half of the Avdiivka Coke Plant and that reports of the plant being seized by Russian forces are false.
ISW, however, has not seen any claims by Russia that Russian forces have seized the Avdiivka Coke Plant.
Russian military bloggers also claimed that Ukrainian forces had successfully counterattacked and advanced near Avdiivka on 13 November. They reported that Ukrainian forces advanced to the railway station near Stepove and near the Tsarskaya Okhota restaurant south of Avdiivka.
Another Russian military blogger claimed that Ukrainian forces unsuccessfully attacked near Krasnohorivka (5 km north of Avdiivka).
Russian sources claimed that Ukrainian forces had continued ground operations on the eastern (left) bank of Kherson Oblast and advanced on 13 November. Russian military bloggers claimed on 12 and 13 November that Ukrainian troops are holding positions near Krynky (30 km northeast of Kherson Oblast and 2 km from the Dnipro River) and have slightly expanded their control zone to the south of the settlement.
To quote the ISW's Key Takeaways on 13 November:
Russian state media released and later retracted reports about the "regrouping" of Russian forces on the east (left) bank of Kherson Oblast to positions further east of the Dnipro River, suggesting that the Russian command and/or Russian state media apparatus has failed to establish a coordinated information line for the Russian response to ongoing Ukrainian ground operations on the east bank.
There are three hypotheses of varying likelihood for the release of the now-retracted reports of a Russian regrouping on the east bank of Kherson Oblast: They may be indicative of actual discussions taking place in the high echelons of Russian military command that may have prematurely entered the information space before being officially released by the Russian military; the Russian military command alternatively may have instructed state media to release and then retract these reports as part of an information operation that aims to have Ukrainian forces underestimate available Russian manpower on the east bank of Kherson Oblast; or an outside source posing as the Russian Ministry of Defense (MoD) provided information about the reported "regrouping" of Russian forces on the left bank of Kherson Oblast to Russian state media outlets.
Regardless of the causes and circumstances of the TASS and RIA Novosti reports, the reaction to them suggests that events in Kherson Oblast continue to be highly neuralgic in the pro-war information space and emphasises that the Russian media space still has not coalesced around a singular rhetorical line about what is happening on the east bank of the Dnipro.
Ukrainian and Russian sources noted that weather conditions are impacting the battlespace but not halting operations.
Ukrainian officials indicated that Ukraine will likely conduct an interdiction campaign against Russian supply routes in the upcoming winter.
US Ambassador to Ukraine Bridget Brink stated that the 100th civilian ship departed the Black Sea corridor for civilian vessels on 13 November, amid continued Russian efforts to deter usage of the corridor.
Former Wagner Group personnel are reportedly rejecting Russian Ministry of Defence (MoD) recruitment attempts aimed at subsuming Wagner operations in Africa.
Russian forces continued offensive operations along the Kupyansk-Svatove line, near Bakhmut, near Avdiivka, west and southwest of Donetsk City, the Donetsk-Zaporizhia Oblast border area, and in western Zaporizhia Oblast and advanced in some areas of the frontline.
Ukrainian officials continued to discuss Russian forced mobilisation of Ukrainian civilians in occupied areas of Ukraine.
Russian occupation officials continued to deport Ukrainian children to Russia under vacation schemes.
Support UP or become our patron!