Defenders counterattack near Avdiivka and advance – ISW
Monday, 20 November 2023, 03:58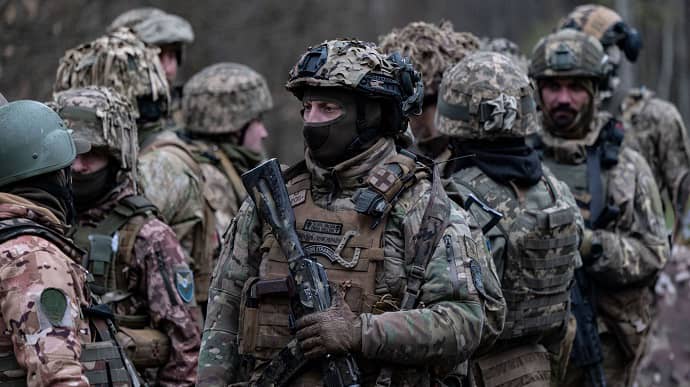 Data analysed by experts from the Institute for the Study of War (ISW) indicate that Ukrainian troops counterattacked near Avdiivka and advanced on 19 November.
Source: ISW
Details: The review notes that Ukrainian and Russian troops continue fighting in eastern and southern Ukraine, although rainy weather is likely to continue to slow down the pace of hostilities until winter conditions set in.
Advertisement:
Analysts point out that the defence forces counterattacked near Avdiivka and made a confirmed advance on 19 November.
Geolocation data released on 19 November indicates that Ukrainian forces have advanced near the railway southeast of Stepove (3 km northwest of Avdiivka).
One Russian milblogger claimed that Ukrainian forces recaptured positions near the railway near Stepove and counterattacked near the Avdiivka coke plant.
At the same time, the report says, Russian troops conducted offensive operations near Avdiivka but did not achieve any confirmed success on 19 November.
Russian milbloggers claimed on 18-19 November that Russian troops had advanced in the area of the industrial zone on the south-eastern outskirts of Avdiivka, the Avdiivka coke plant and the Railway West and northwest of Krasnohorivka (5km north-west of Avdiivka).
In addition, a Russian milblogger said on 19 November that elements of the Russian 114th Motorised Rifle Brigade (1st Army Corps of the "Donetsk People Republic") and Storm-Z units had advanced near the Tsarska Okhota restaurant south of Avdiivka, but later retracted this statement after other Russian sources denied the claim.
The Ukrainian General Staff reported that Russian troops had unsuccessfully attacked south of Novokalynove (13 km north-east of Avdiivka), east of Novobakhmutivka (9 km north-west of Avdiivka), as well as near Sieverne (6 km west of Avdiivka) and Avdiivka.
At the same time, Russian sources claimed that on 18 and 19 November, the Russians had attacked near Pervomaiske (10 km southwest of Avdiivka) and Sieverne; west of Krasnohorivka; south of the waste dump northwest of Avdiivka; east of the coke plant; in the direction of Novokalynove; and from the industrial zone southeast of Avdiivka.
Russian sources also claimed that on 18-19 November, military operations were conducted in the industrial zone, the coke and chemical plant, and the area of the village of Stepove.
Colonel Oleksandr Shtupun, spokesman for the Tavriia Grouping of Ukrainian Forces, said on 19 November that the number of Russian deserters and military personnel who are refusing to conduct offensive operations is growing, forcing the Russian command to use physical force and barrage detachments to push Russian troops into battle.
Shtupun added that Russian troops had suffered heavy losses near Avdiivka and had been forced to use mobilised personnel and recruited convicts.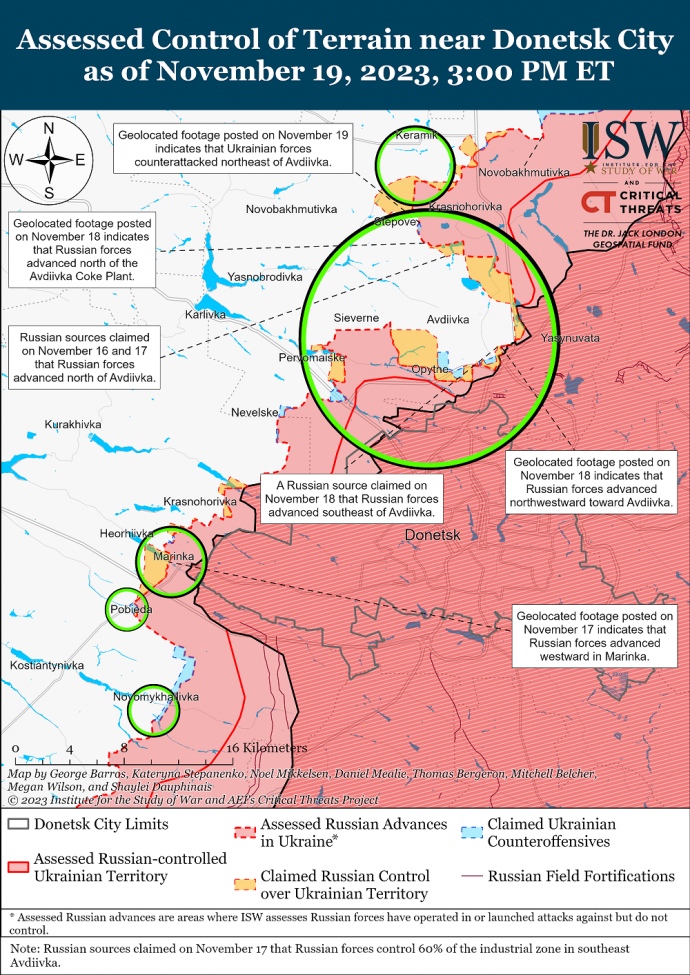 To quote the ISW's Key Takeaways on 19 November:
Ukrainian and Russian forces are continuing combat operations in eastern and southern Ukraine, although the rainy weather will likely continue to slow the pace of combat operations until winter conditions fully set in.
Russian forces conducted another series of drone strikes primarily targeting Kyiv, Poltava, and Cherkasy oblasts on the night of 18 and 19 November.
Ardent nationalist and former Russian officer Igor Girkin formally announced his intent to run in the 2024 Russian presidential elections despite his imprisonment.
The Russian Ministry of Defence (MoD) may be censoring irregular Russian armed formations as part of its ongoing efforts to formalise Russia's irregular forces and establish greater control over the Russian information space.
Ukrainian officials announced on 19 November that Bohdan Yermokhin, a teenage Ukrainian whom Russian authorities forcibly deported from occupied Mariupol to Russia and attempted to conscript, returned to Ukraine.
Russian forces conducted offensive operations along the Kupiansk-Svatove-Kreminna line, near Bakhmut, near Avdiivka, west and southwest of Donetsk City, in the Donetsk-Zaporizhzhia Oblast border area, and in western Zaporizhzhia Oblast and reportedly advanced in some areas on 19 November.
Regional Russian officials continue to fear the emergence of localised protests in response to the Russian military's refusal to return some mobilised personnel from the frontlines.
Occupation authorities continue efforts to indoctrinate Ukrainian children in occupied Ukraine into Russian national and cultural identities.
Support UP or become our patron!