People attend rally after a council official was kidnapped in Enerhodar
Sunday, 20 March 2022, 15:16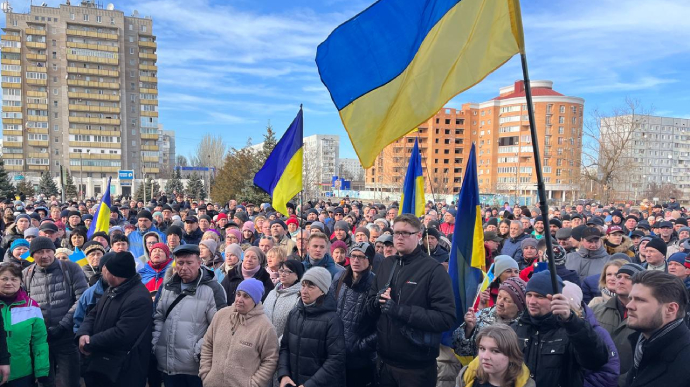 DENYS KARLOVSKYI – SUNDAY, 20 MARCH 2022, 16:16

Residents of Enerhodar went on a protest against the tyranny of the Russian occupiers, who kidnapped Ivan Samoidiuk, Deputy Mayor of Enerhodar.

Source: Dmytro Orlov, Mayor of Enerhodar, on Telegram

Quote: At least one and a half thousand residents of Enerhodar promptly responded to the call and gathered near the City Council's building for a peaceful protest in less than an hour. They came to say "No" to the tyranny of the occupiers and reaffirm the undoubted truth that Enerhodar has always been part of Ukraine and will be forever!

The abduction of a man, a citizen, an official, Ivan Samoidiuk, who has been successfully addressing many social problems, is a provocation that threatens the further maintenance of the city. If he is not released by tomorrow, these protests will go on indefinitely and round the clock."

Details: The mayor addressed the people and assured them that the local authorities are coordinating their efforts to secure Samoidiuk's release with law enforcement officers and the military administration.
Civilians offered to hold protests indefinitely and round the clock if the Russian invaders did not release Samoidiuk from captivity.

Many people came to the rally with Ukrainian flags and chanted "Energodar is Ukraine!"
When the rally was over, several occupiers drove up and tried to capture civilians and shove them into a car.
The occupiers were pushed away by the crowd as people started fighting back to rescue their fellow citizens. The Russian troops began to fire guns into the air in front of unarmed civilians.
Advertisement:

Orlov has posted a video on social media that shows the occupiers firing into the air in a crowd of civilians.
Background: On Sunday morning, 20 March, the occupiers abducted Ivan Samoidiuk, First Deputy Mayor of Enerhodar. The mayor called on citizens to go on a protest.