Russians have hit Regional State Administration building in Mykolaiv
Tuesday, 29 March 2022, 10:35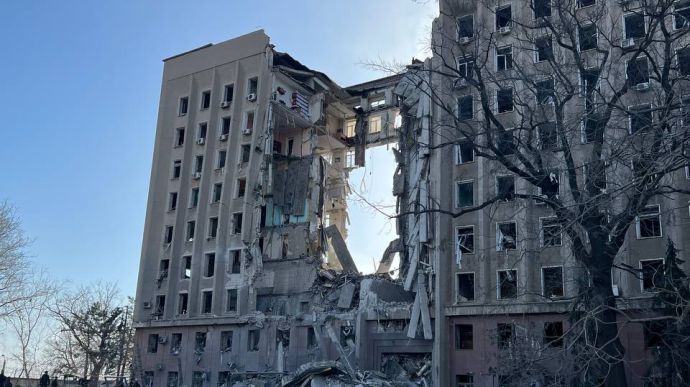 OLENA ROSHCHYNA - TUESDAY, 29 MARCH 2022, 10:35
Russian troops attacked Mykolaiv on the morning of 29 March, penetrating the building of the Mykolaiv Regional State Administration.
Source: Vitaly Kim, head of the Mykolaiv Regional State Administration, and the Ukrainian State Emergency Service on Facebook
Advertisement:
According to Kim: "They have hit the regional administration building, destroyed half of the building, and my office has been hit.
Eight civilians are under the rubble, fifty to one hundred people got out, and we are also looking for three servicemen".
Details: Kim showed a photo of the destroyed regional administration building.
In the first report at 08:55, Kim reported that the Russians hit a residential building after waiting for people to go to work. The head of the Regional Military Administration himself, he said, had overslept.
The Ukrainian State Emergency Service reported that around 08:45 on 29 March, shelling and a hit on a nine-storey administrative building in Mykolaiv resulted in the destruction of the central section of the building from the 8th to the ground floor, with no subsequent fire damage.
Update: As of 12:00, rescuers released 3 people, released 18 people from the rubble.
According to Kim, the rocket attack may indicate that the Russians have abandoned a ground offensive on Mykolaiv.
At 10:15am, the head of the Mykolaiv Regional Administration said: "Enemy aircraft have flown from Crimea to Mykolaiv. The number is unknown. Will be operating at very low altitudes. Everyone take cover."
Ukainska Pravda, updated 09:21