Zelenskyy asks for strength to win on Easter day in Saint Sophia Cathedral, Kyiv
Sunday, 24 April 2022, 09:58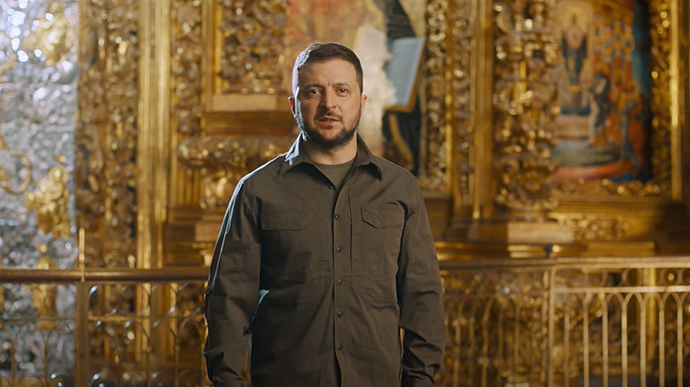 SUNDAY, 24 APRIL 2022, 09:58
President Volodymyr Zelenskyy extended Easter greetings to Ukrainians from the Cathedral of St Sophia in Kyiv. In his prayer, the President asked God to protect every Ukrainian and give the nation strength to fight and win.
Source: the President's Easter greetings
Advertisement:
Quote: "This Easter, we ask God for great grace to make our great dream come true – a dream of another Great Day [Easter in Ukrainian is literally called "Greatday" - ed.], a day when great peace will come to Ukraine, and with it eternal grace and prosperity. With faith and confidence in this, I wish you all a Happy Easter."
Details: Zelenskyy recorded his greeting in the great shrine of the Ukrainian people - the Cathedral of St Sophia [Holy Wisdom]. He reminded everyone that this cathedral was founded a thousand years ago; it survived the invasion by the [Mongol] Horde and the Nazi occupation, and now gives faith in the new victory of Ukraine, in the fact that "we will not be destroyed by any horde, or any evil spirits".
Zelenskyy noted that Ukraine is going through dark times today, and all Ukrainians are fighting "for the cause of the light".
"On our side there is the truth, the people, the Lord and the higher heavenly radiance - the power of the patroness of the human race, the Virgin Oranta. She is above me; she is above us all. As long as there is Oranta, there is St Sophia, and with her stands Kyiv, and with them stands all of Ukraine.
Above the image of Oranta these words from the Book of Psalms are written: 'God is in the midst of the city, and it will not be moved. God will help it before dawn.' On this great day, we all believe that our dawn will soon arrive."
Details: The President noted that "On this day of Christ's Resurrection, that symbolises the victory of life over death," every Ukrainian is asking one thing: "Lord, O Great and Almighty One, protect our beloved Ukraine". [This is the first line of Prayer for Ukraine, a patriotic Ukrainian hymn published in 1885, which has become a spiritual anthem of Ukraine - ed.]
In his prayer, Zelenskyy asked for protection for the lives of all Ukrainian defenders and those who help them - volunteers, medics, rescue workers - and "to protect all mothers, all those who are expecting a son or daughter back from the war, and give strength to those whose child will never return from this war".
The President asked that "our parents and grandparents, who built this country and are now watching it being destroyed, will see our land liberated and rebuilt," and for Ukrainians to be given the strength to do it.
He asked that on Judgement Day God would not forget those who forgot all His commandments and destroyed Ukraine; that He would not forget Bucha, Irpin, Borodianka, Chernihiv, Mariupol and other martyred cities and their heroic defenders.
Quote: "Our hearts are full of fierce anger, our souls are full of fierce hatred for the invaders and all that they have done. Do not let the rage destroy us from within. Turn it into a good force to defeat the forces of evil. Save us from strife and division. Do not let us lose our unity. Strengthen our will and our spirit. Do not let us lose ourselves. Do not let us lose our thirst for freedom, and therefore do not let us lose our zeal for the righteous struggle. Do not let us lose hope of victory, or our self-respect - and therefore not lose our own freedom, not lose Ukraine, and therefore - not lose faith."
Details: The President summed up that today's feast-day gives Ukrainians great hope and unshakable faith that "light will overcome darkness, good will overcome evil, and life will overcome death, and therefore Ukraine will undoubtedly win".