Ukrainian intelligence: Russian units fire at each other near Chornobaivka
Friday, 29 April 2022, 17:36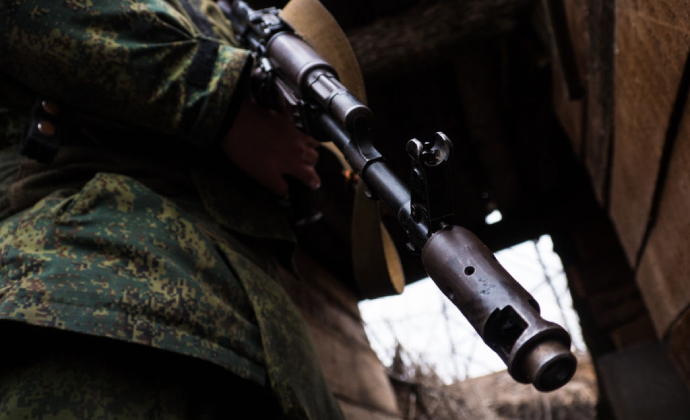 Denys Karlovskyi – Friday, 29 April 2022, 17:36
Russian troops from Buryatia [a republic in the Far East of the Russian Federation] and from Chechnya [or the Chechen Republic – also part of the Russian Federation] exchanged fire in the Russian-occupied village of Kyselivka, in the Kherson Region.
Source: Chief Intelligence Directorate of the Ministry of Defence of Ukraine, on Telegram
Advertisement:
According to Ukrainian Intelligence: "Soldiers of the Russian Federation from Chechnya and Buryatia shot at one another in the occupied Kyselivka (Chornobaivka municipal territorial community, Kherson Region).
Over 50 soldiers on each side took part in last night's shoot-out. The exact number of casualties and fatalities is currently unknown.
One of the reasons for this ethnic conflict is the reluctance of the Buryat soldiers to conduct offensive operations and their perception of the "inequality" of their circumstances compared to those of the Chechen soldiers. The latter are never on the frontline – they always remain in the rear as "barricading detachments." Their task is to ensure the units of [Russian] occupying forces maintain active military action. That is, to open fire on those [Russian troops] who are trying to retreat."
Details: Ukrainian intelligence believes that the conflict may have been caused by Buryat soldiers' dissatisfaction with the distribution of property looted from Ukrainians. It seems that all the booty was taken by the Kadyrovites [the Chechen troops], so the Buryat troops decided to initiate a redistribution.
The Chief Intelligence Directorate of the Ministry of Defence of Ukraine also reported a similar conflict between commanders and privates in the occupied village of Fedorivka in Zaporizhzhia. Supposedly, lower ranked soldiers feel cheated because they were promised to take part in hostilities similar to the 2014 Russian occupation of Crimea – without resistance.
Allegedly, Russian troops are complaining to local residents that they were deceived into signing military contracts and taking part in hostilities.
Russian Federal Security Service officers are said to have arrived to Fedorivka. They interrogated some of the discontented soldiers and took them to an unknown location.
Earlier: Ukrainian farmers in the Kherson Region reported that armed detachments of Kadyrovites are confiscating local residents' expensive farming equipment and machinery, as well as their grain, and taking it with them to Russia.