Izyum city government: Izyum 80% destroyed
Sunday, 3 April 2022, 11:22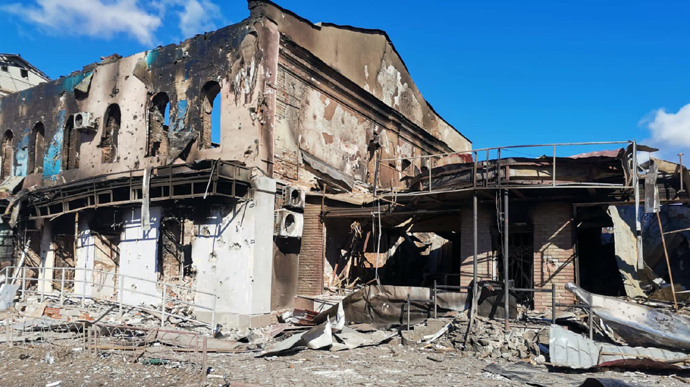 Iryna Balachuk – Sunday, 3 April 2022, 11:22
Almost 80% of residential buildings in the city of Izyum in the Kharkiv region, which has been under the blockade of the Russian occupying forces since early March, have been destroyed. There is no power, heating, or water in the city, and it is still impossible to estimate the total number of victims of the Russian occupation.
Source: Volodymyr Matsokin, Deputy Mayor of Izyum, in an interview to Ukrinform
Advertisement:
According to Matsokin: "On 6 March the intense shelling of Izyum began. We already knew then that the troops of the occupying forces were in Honcharivka, Pisky [Izyum neighbourhoods], and the railway station. At the time, all road bridges over the Siversky Donets river had already been destroyed, only the pedestrian bridge remained. We [the city government] remained in central Izyum, under the Ukrainian flag. The devastating bombing had begun – from planes, missiles, artillery, and mortars. It continued day after day.
This bombing was absolutely barbaric and chaotic. It is unclear what military logic could have been at play. They destroyed everything. WWII memorials, kindergartens, a lyceum, medical and social establishments, pathways, the pedestrian bridge I mentioned earlier, the central square and the central park, architectural monuments. An apocalyptic scene."
Details: Matsokin said that entire sections of residential buildings folded in on themselves and that only bare frames remained of the school buildings.
He said that before the air strikes and the mass artillery shelling, Russian troops contacted Valeriy Marchenko, the Mayor of Izyum, but he did not agree to submit to their proposals.
According to Matsokin, some of the Izyum residents have left the city. Currently, the local government believes that between 15,000 and 20,000 people remain blockaded in Izyum and the villages on its outskirts – Kamyanka, Sukha Kamyanka, Topalske – and require immediate humanitarian aid.
The government cannot count the number of people killed in the weeks of the Russian occupation. There is also no information about the people who were hiding in the basements of high-rise apartment buildings on Khlibozavodska and Pershotravneva streets, where the destroyed buildings caved in onto those basements where people were sheltering.
According to the Deputy Mayor, local residents bury their fellow citizens whenever and wherever they can: in parks, on allotments, in the courtyards near the apartment blocks. Some of the dead are in the morgue, others remain in the apartments where they were killed.